On December 13, 2011, Vice President Joe Biden and Treasury Secretary Timothy Geithner announced that the production of Presidential Dollars for circulation would be suspended. The suspension was implemented under existing law, which gives the Treasury Secretary the authority to mint and issue coins in the necessary amounts.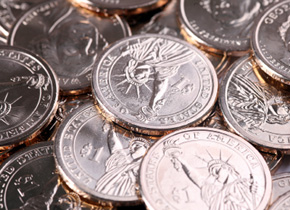 The move was made largely in response to public scrutiny of the program due to the 1.4 billion worth of $1 coins held in storage at Federal Reserve Banks. The build-up of excess coins during the first four years of the program resulted from the requirement for Federal Reserve Banks to make each new program design available to depository institutions during an introductory period.
This requirement compelled the Reserve Banks to order large quantities of each release from the United States Mint. When these coins went unordered or were ultimately redeposited, the stockpile of excess coins grew with each release.
When the announcement was made, the suspension was cited as a cost savings initiative. This would save at least $50 million annually in production and storage costs.
Supporters of the Presidential Dollar Program have argued that the suspension will actually cost the government money. The United States Mint produces each $1 coin at a unit cost of about 18 cents each. These coins are sold to Federal Reserve Banks at face value, generating seigniorage for the U.S. Mint based on the difference between the cost to produce the coins and their face value. From 2007 to 2010, the United States Mint had distributed more than $2.4 billion to the Treasury General Fund from the net income and seigniorage generated from operations. In fiscal 2011, the distribution dropped to only $51 million. This was largely due to the anticipated changes in production for $1 coins.
Supporters of $1 coins have also cited the higher potential cost savings that could be achieved by suspending production of $1 bills and fully transitioning to $1 coins. The Government Accountability Office has recommended the switch on five separate occasions during the past twenty years. Their latest report indicated estimated savings of $5.5 billion over 30 years.
Despite these counterarguments, the suspension of production for circulation remains in place. However, the United States Mint will continue the Presidential Dollar Program in a limited fashion. Starting with the twenty-first release of the series honoring Chester Arthur, the Mint will only produce the number of coins necessary to satisfy demand from collectors. The U.S. Mint will not distribute these coins through circulation. Instead, it will offer them exclusively within numismatic products. In addition to the standard 25-coin rolls, the Mint has expanded its offerings to include 100-coin bags, 250-coin boxes, and 500-coin boxes. These are all priced at premiums of 10-12% above face, plus shipping costs. As each design is released, these products may be found online at http://catalog.usmint.gov/.

< Presidential Dollar Release Dates | 2009 Presidential Dollar Designs >