James K. Polk Proof Presidential Dollars are collectible versions of the circulating coins. 
These proof coins were offered in a 2009 Presidential $1 Coin Proof Set, 2009 US Proof Set and 2009 US Silver Proof Set and as individual Proof coins. These products were available directly from the US Mint.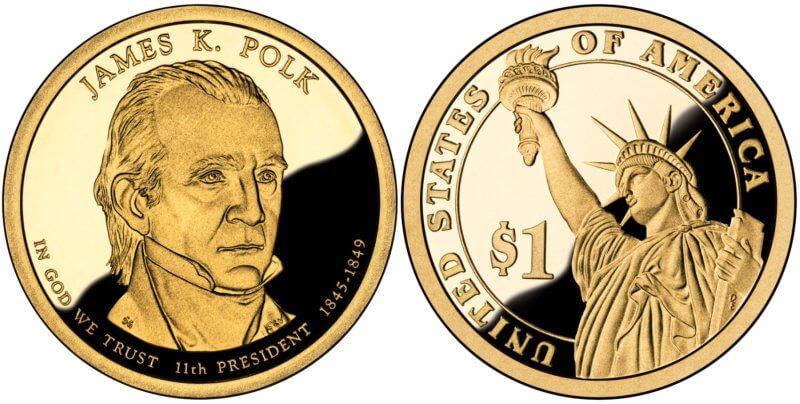 The date and mint mark are located on the edge inscription of the coin.  
Coin Specifications: 
Diameter:

26.5 mm

 

Weight:

8.1g

 

Thickness:

2.0 mm

 

Edge:

Lettered

 

Composition:

77% copper, 12% zinc, .070 manganese, .040 nickel

 
James K. Polk background: 
His administration was known for its major expansion of the territory of the United States; fought the war with Mexico; and saw the beginning of the California Gold Rush.  
Notable quote: "I am heartily rejoiced that my term is so near its close. I will soon cease to be a servant and will become a sovereign." 
Born:

November 2, 1795, Pineville, NC

 
Spouse:

Sarah Childress Polk

 

Died:

June 15, 1849, June 15, 1849, Nashville, TN

 
Related: