The 2020 George H.W. Bush Presidential Dollar (Buy on eBay) added one more release to the Presidential $1 Coin Program. The 41st President passed away on November 30, 2018. Separate legislation was passed to authorize the issuance of coins under Public Law 116-112, which was enacted on January 27, 2020.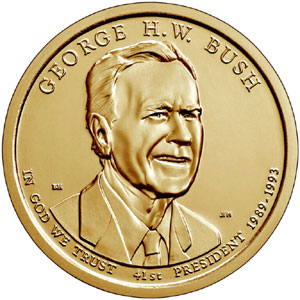 The designs for the coin were announced on July 28, 2020. The obverse features a portrait of George H.W. Bush designed by Elana Hagler and sculpted by Joseph Menna. The inscriptions read "George H.W. Bush", "In God We Trust", "41st President", and "1989-1993".
As with earlier coins of the series, the reverse contained the rendition of the Statue of Liberty designed by Don Everhart. The inscriptions include "United States of America" and the denomination "$1". Incused edge lettering includes the date, mint mark, and motto "E Pluribus Unum".
The George H.W. Bush Presidential Dollars were not released for general circulation. Circulating quality coins packaged in bags, rolls, and boxes went on sale at the United States Mint on December 4, 2020. Product offerings included 25-coin rolls, 100-coin bags, and 250-coin boxes from either the Philadelphia or Denver Mint facilities.
Other numismatic products were also offered featuring the coins. The Presidential $1 Coin & First Spouse Medal Set went on sale December 21, 2020. This product was limited to 10,000 units and featured an uncirculated version of the dollar coin along with a bronze medal featuring Barbara Bush. The Coin and Chronicles Set went on sale September 17, 2021. This product was limited to 35,000 units and featured a reverse proof dollar coin, silver Presidential Medal, and bronze First Spouse Medal.
Coin Specifications:
Diameter: 26.5 mm
Weight: 8.1g
Thickness: 2.0 mm
Edge: Lettered
Composition: 88.5% copper, 6% zinc, 3.5% manganese, 2% nickel