The John Tyler Presidential Dollar (Buy on eBay) was the second release of the Presidential Dollar series for 2009 and the tenth release of the series overall. The coins were officially issued for circulation on May 21, 2009, with sales of the U.S. Mint's numismatic rolls beginning on the same day.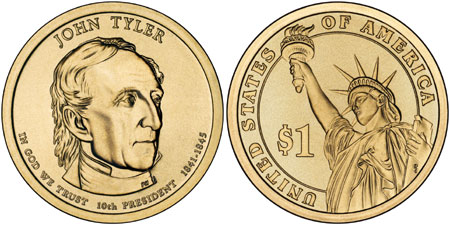 John Tyler was the vice president under President William Henry Harrison. After only 30 days, Harrison died in office and Tyler assumed the presidency. He set an important precedent by assuming all of the responsibilities and powers of the office. He served the remainder of the single term from 1841 to 1845.
An official launch ceremony for the John Tyler Presidential Dollar was held two days before the circulation release date. The ceremony was held at Sherwood Forest Plantation in Charles City County, Virginia, hosted by Andrew Brunhart, the United States Mint Deputy Director, and Harrison Tyler, the grandson of President John Tyler. Children in attendance were given a free Presidential Dollar to commemorate the day.
The obverse of the John Tyler Dollar features a portrait designed and sculpted by Phebe Hemphill. The obverse inscriptions include "JOHN TYLER," "IN GOD WE TRUST," "10th PRESIDENT," and the years of his Presidential term "1841-1845."
The reverse of the coin features the rendition of the Statue of Liberty designed and sculpted by Don Everhart. This design has been used for each year of the series since it began in 2007. The inscriptions include "UNITED STATES OF AMERICA" and the face value expressed as "$1".
In 2009, the placement of the "IN GOD WE TRUST" motto was moved to the obverse of the coin. This followed early public confusion about the government's intentions when the motto was placed on the edge lettering of the coin. The other famous motto "E PLURIBUS UNUM," the date, and mint mark still appear on the edge lettering of the coin.
There were a total of 87,080,000 John Tyler Presidential Dollars produced by the United States Mint. This amount was divided equally between the Philadelphia and Denver facilities.
Starting with this year's coins, the United States Mint reduced the number of numismatic products released for the series. Previously available Historical Signature Sets, individual proof coins, 250-coin bags, and the annual uncirculated dollar sets were no longer offered.
Coin Specifications:
Denomination: $1.00
Composition: 88.5% copper, 6% zinc, 3.5% manganese, 2% nickel
Diameter: 26.5 mm
Weight: 8.1g
Thickness: 2.0 mm
Edge: lettered
Coin Mintages:
Philadelphia: 43,540,000
Denver: 43,540,000
San Francisco (Proof): 2,809,452
Other 2009 Presidential Dollars:

< William Henry Harrison | James K. Polk >