Herbert Hoover Proof Presidential Dollars (Buy on eBay) are collectible versions of the circulating coins. 
These proof coins were offered in a 2014 Presidential $1 Coin Proof Set, 2014 US Proof Set and 2014 US Silver Proof Set and as individual Proof coins. These products were available directly from the US Mint. 
The date and mint mark are located on the edge inscription of the coin.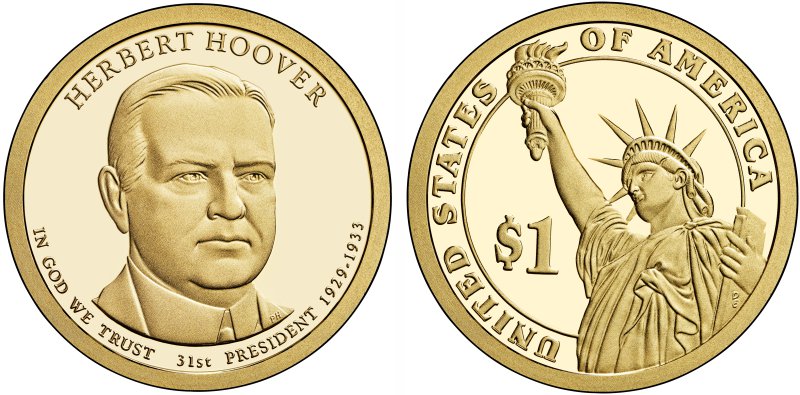 Sales of the 2014 Presidential $1 Coin Proof Sets reached another low of 218,976 sold. 
Coin Specifications: 
Diameter:

26.5 mm

 

Weight:

8.1g

 

Thickness:

2.0 mm

 

Edge:

Lettered

 

Composition:

77% copper, 12% zinc, .070 manganese, .040 nickel

 

Proof Mintage

: 1,373,569

 
Herbert Hoover Background: 
After World War I, Hoover became the head of the Food Administration and oversaw a major program of food aid to people in Europe, especially Russia, who were devasted by the war. While in office, the stock market had its worst ever crash in 1929, setting off the Great Depression, which he tried to end but was unsuccessful. 
Most circulating coins saw their mintage sharply reduced due to the Depression, and the 1932 Washington quarter dollar debuted. 
Notable quote: "Blessed are the young for they will inherit the national debt." "Absolute freedom of the press to discuss public questions is a foundation stone of American liberty." 
Born:

  August 10, 1874 in West Branch, IA

 

Spouse:

Lou Henry

 

Died:

October 20, 1974 in New York, NY

 
Related: