Grover Cleveland (second term) Proof Presidential Dollars (Buy on eBay) are collectible versions of the circulating coins. 
These proof coins were offered in the 2012 Presidential $1 Coin Proof Set, 2012 US Proof Set and 2012 US Silver Proof Set and as individual Proof coins. These products were available directly from the US Mint. 
The date and mint mark are located on the edge inscription of the coin.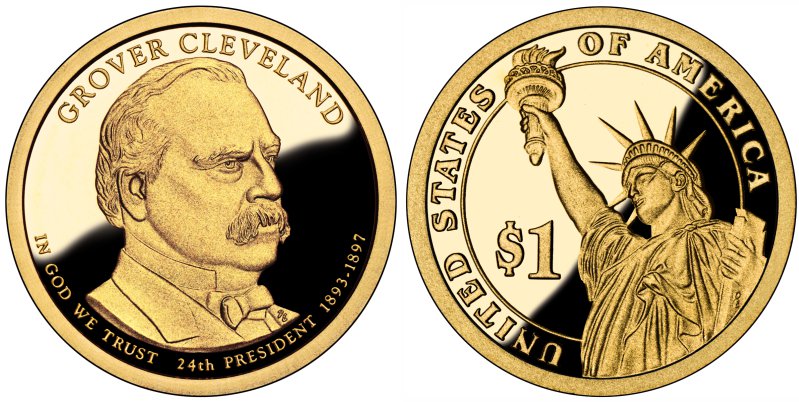 Sales of the 2012 Presidential $1 Coin Proof Sets reached another low of 249,265 sold. 
Coin Specifications: 
Diameter:

26.5 mm

 

Weight:

8.1g

 

Thickness:

2.0 mm

 

Edge:

Lettered

 

Composition:

77% copper, 12% zinc, .070 manganese, .040 nickel

 

Proof Mintage

: 1,438,743

 
Grover Cleveland Background: 
Because his two terms were not consecutive and were four years apart from each other (1885 to 1889 and 1893 to 1897), Cleveland is considered the 22nd and 24th American presidents. During the second term, he maintained financial stability while gold reserves were being sent overseas and worked to repeal the Sherman Silver Purchase Act. 
Born:

March 18, 1837 in Caldwell, NJ

 

Spouse:

Frances Cleveland

 

Died:

June 24, 1908 in Princeton, NJ

 
Related: