The James Buchanan Presidential Dollar (Buy on eBay) marked the fifteenth release overall for the Presidential Dollar coin series, and the third release during the year 2010. Although his presidency is not considered to be a success, his place in history is remembered with the issuance of this coin.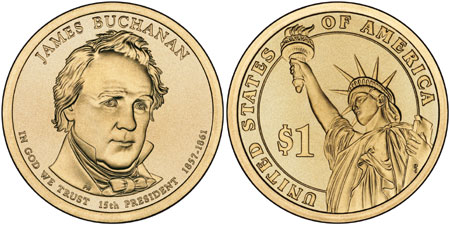 Prior to his presidency, James Buchanan had a successful law career, served as a state legislator, and was elected to the House of Representatives and Senate. He was also the Secretary of State under President James K. Polk and the minister to Russia and Great Britain. Two days before his inauguration, the Supreme Court made the Dred Scott decision, which legalized slavery and propelled the nation to civil war.
The official circulation release date for the James Buchanan Presidential Dollar was August 19, 2010. On the same date, a launch ceremony was held on the grounds of Buchanan's former home in Lancaster, Pennsylvania. Attendees of the ceremony included U.S. Mint Deputy Director Andrew Brunhart and Emeritus Professor of Educational Administration of Temple University Donald Walters, who gave a speech on Buchanan's legacy.
The obverse of the coin included a portrait of the one term President, designed and sculpted by Phebe Hemphill. Inscriptions included "JAMES BUCHANAN," the motto "IN GOD WE TRUST," "15th PRESIDENT" and the year's of his Presidential term "1857-1861."
The reverse of the coin will featured an image of the Statue of Liberty designed and sculpted by Don Everhart. This was intended to represent the concept of Liberty. The reverse inscriptions included "UNITED STATES OF AMERICA" and the denomination "$1." Incuse edge lettering includes the date, mint mark, and the motto "E PLURIBUS UNUM," separated by thirteen stars.
Circulating coin production occurred at the Philadelphia and Denver mint facilities with a combined 73,360,000 pieces struck. This represented the lowest mintage for an issue of the series to date. Numismatic products available from the United States Mint incorporating the coin included annual sets, numismatic rolls, Presidential $1 coin and medal sets, and First Day Coin Covers.
Coin Specifications:
Denomination: $1.00
Composition: 88.5% copper, 6% zinc, 3.5% manganese, 2% nickel
Diameter: 26.5 mm
Weight: 8.1g
Thickness: 2.0 mm
Edge: lettered
Coin Mintages:
Philadelphia: 36,540,000
Denver: 36,820,000
San Francisco (Proof): 2,224,613
Other 2010 Presidential Dollars:

< Franklin Pierce | Abraham Lincoln >