The Zachary Taylor Presidential Dollar (Buy on eBay) honored the 12th president of the United States. The official circulation release date was November 19, 2009. This coin represented the final release of the year and the twelfth release overall for the Presidential Dollars series.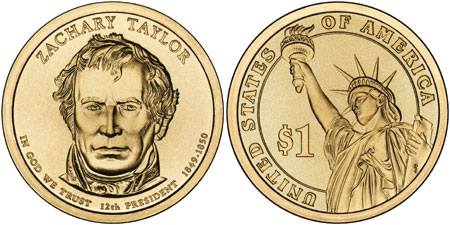 Zachary Taylor became president after a long army career during which he served in many remote outposts and led forces to victory in the Mexican-American War. He only served 16 months in office before he became ill and died. He was the second president to die in office, the first being William Henry Harrison.
An official launch ceremony for the Zachary Taylor Presidential Dollar was held on November 24, 2009 in Orange, Virginia. This date coincided with the 22th anniversary of the former President's birth. U.S. Mint Deputy Director Andrew Brunhart and a descendant of Zachary Taylor took part in a ceremonial coin pour. The 392nd Army Band performed music written for Taylor during the 1840's.
The Zachary Taylor Dollar obverse features a portrait of former President as designed and sculpted by Don Everhart. The obverse inscriptions include "ZACHARY TAYLOR," "IN GOD WE TRUST," "12th PRESIDENT," and the years of his Presidential term "1849-1850."
The reverse of the coin features a rendition of the Statue of Liberty also designed and sculpted by Don Everhart. This design has been used throughout the Presidential Dollar series.
The overall mintage for the Zachary Taylor Presidential Dollar set another fresh low for the series. The circulation mintage of 78,260,000 was nearly 10 million coins lower than the mintage for the prior release.
By this point in time, the US Mint had struck more than 1.75 billion Presidential Dollars. Circulation of the coins within everyday commerce remained limited and many of the coins resided in Federal Reserve Bank vaults. Despite the stockpile, the Federal Reserve banks were legally required to continue ordering the coins, which prompted the U.S. Mint to continue striking them in high numbers.
Coin Specifications:
Denomination: $1.00
Composition: 88.5% copper, 6% zinc, 3.5% manganese, 2% nickel
Diameter: 26.5 mm
Weight: 8.1g
Thickness: 2.0 mm
Edge: lettered
Coin Mintages:
Philadelphia: 41,580,000
Denver: 36,680,000
San Francisco (Proof): 2,809,452
Other 2009 Presidential Dollars:

< James K. Polk | Millard Fillmore >