The John Adams Presidential Dollar (Buy on eBay) was first released into circulation on May 17, 2007. This represented the second coin in the Presidential Dollar coin series. Together with the first release featuring George Washington, total production of Presidential Dollars crossed the half billion mark with this release.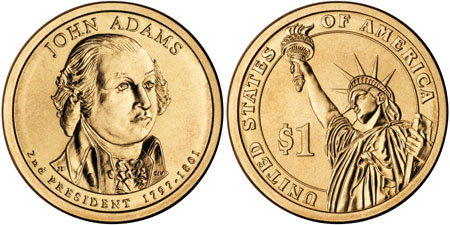 John Adams was one of the earliest and most vocal advocates of colonial independence. He served on both the First and Second Continental Congress and for eight years as George Washington's Vice President. During his presidency, Adams helped alleviate tensions with France during the XYZ Affair. He served one term as the 2nd President of the United States from 1797-1801.
The official launch ceremony of the new coin was held in Quincy, Massachusetts, the hometown of John Adams. The United States Mint Director Edmund Moy and Mayor William J. Phelan were in attendance. Several of John Adams descendants also attended the ceremony.
The obverse of the John Adams Presidential Dollar features a portrait of the president and the reverse features the Statue of Liberty. The obverse designer was Joel Iskowitz and the sculptor was Charles L. Vickers. The reverse designer/sculptor was Don Everhart.
The obverse includes the inscriptions "JOHN ADAMS," "2nd PRESIDENT," and the years of his presidential term "1797-1801." The reverse inscriptions include "UNITED STATES OF AMERICA," and the denomination "$1." The date and mint mark are located on the edge inscription of the coin along with the mottoes "IN GOD WE TRUST" and "E PLURIBUS UNUM."
The mintage of the John Adams Dollar declined from the high levels for the first release of the series, but there were still more than 200 million produced for circulation. The Philadelphia mint produced 112,420,000 coins. The Denver mint produced 112,140,000 coins.
As experienced with the previous release, some John Adams Presidential Dollars were struck with missing edge lettering. The estimated mintage for this mint error is 12,000 coins. This is a much smaller number than for the previous release, but the errors are still somewhat easily encountered on the secondary market.
Coin Specifications:
Denomination: $1.00
Composition: 88.5% copper, 6% zinc, 3.5% manganese, 2% nickel
Diameter: 26.5 mm
Weight: 8.1g
Thickness: 2.0 mm
Edge: lettered
Coin Mintages:
Philadelphia: 112,420,000
Denver: 112,140,000
San Francisco (Proof): 3,965,989
Other 2007 Presidential Dollars:

< George Washington | Thomas Jefferson >