The 2008 James Monroe Presidential Dollar (Buy on eBay) was released on February 14, 2008. The coin represented the first release of the year for the Presidential Dollar series and the fifth release for the series overall.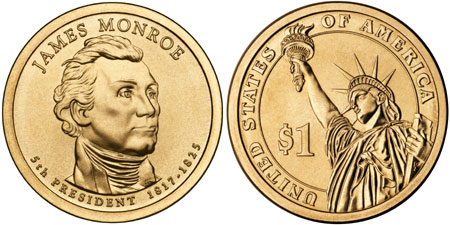 Before being elected as president, James Monroe served in the American Revolutionary War, championed the Bill of Rights, and helped negotiate the Louisiana Purchase. His Presidency is known for the Monroe Doctrine and Missouri Compromise. He served two terms as the 5th President of the United States from 1817 to 1825.
The official launch ceremony for the James Monroe Presidential Dollar was held at Ash Lawn-Highland in Charlottesville, Virginia. This is the estate of President James Monroe. The Acting Deputy Director of the United States Mint Dan Shaver, Ash Lawn-Highland Executive Director Carolyn Coggin Holmes, and the James Monroe Memorial Foundation President G. William Thomas Jr. were in attendance. The public was able to exchange paper dollars for the new dollar coins one day before they were officially released into circulation.
The obverse of the James Monroe Dollar coin features a portrait of the President and the reverse features the Statue of Liberty design used on all Presidential Dollars. The obverse was designed and sculpted by Joseph Menna. The reverse was designed and sculpted by Don Everhart.
The obverse includes the inscriptions "JAMES MONROE," "5th PRESIDENT," and the years of his presidential term "1817-1825." The reverse inscriptions include "UNITED STATES OF AMERICA," and the denomination "$1." The date and mint mark are located on the edge inscription of the coin along with the mottoes "IN GOD WE TRUST" and "E PLURIBUS UNUM."
Mintage levels for the series showed another decline with the release of the James Monroe Dollar. The Philadelphia mint produced 64,260,000 coins and the Denver mint produced 60,230,000 coins. These figures marked another fresh low for circulation strike Presidential Dollars.
Just before the James Monroe Presidential Dollars were released into circulation, there was some excitement with collectors when it was reported that between 70,000 and 140,000 had been struck on quarter planchets. The errors were discovered during the coin wrapping process and collected and returned to the Mint to be destroyed. So far, none of these error coins is known to have escaped into the hands of collectors.
Coin Specifications:
Denomination: $1.00
Composition: 88.5% copper, 6% zinc, 3.5% manganese, 2% nickel
Diameter: 26.5 mm
Weight: 8.1g
Thickness: 2.0 mm
Edge: lettered
Coin Mintages:
Philadelphia: 64,260,000
Denver: 60,230,000
San Francisco (Proof): 3,083,940
Other 2008 Presidential Dollars:

< James Madison | John Quincy Adams >