The Grover Cleveland Presidential Dollar (Buy on eBay) was the second release of the year and the twenty-second release for the series overall. Cleveland made an appearance on two different coins of the series since he had served as President during two nonconsecutive terms.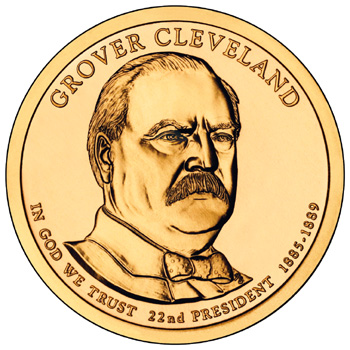 Prior to being elected President, Grover Cleveland was elected as the mayor of Buffalo and later the governor of New York. After serving one term as President, he was defeated by Benjamin Harrison despite winning the popular vote. He ran for President in the following election and became the first and only President to leave the White House and then return for a second term.
The coin representing his first term included his portrait on the obverse with inscriptions "Grover Cleveland", "In God We Trust", "22nd President", and the years of the term "1885-1889". The selected obverse was designed and sculpted by Don Everhart.
On the reverse of the coin was the familiar image of the Statue of Liberty, intended to represent the concept of Liberty. This was designed and sculpted by Don Everhart and had been used in common for all issues of the series. Inscriptions included "United States of America" and "$1". The date, mint mark, and motto "E Pluribus Unum" appeared on the edge lettering of the coin.
Following the Treasury Department decision to suspend production of the series for circulation, the Grover Cleveland Presidential Dollars were only released within numismatic products offered by the United States Mint. Sales of 25-coin rolls, 100-coin bags, 250-coin boxes, and 500-coin boxes from either the Philadelphia or Denver Mint began on May 25, 2012. Sales were robust, leading the US Mint to expand production beyond the originally anticipated levels. In total 9,520,000 circulating quality coins would be produced.
In addition to the rolls, bags, and boxes of circulating quality coins, the US Mint also offered the coins as included within proof sets, uncirculated coin sets, and coin covers.
Around this time, the Mint announced that the launch ceremonies which had been held to mark each coin of the series would be cancelled. As such, there were no official ceremonies held to mark the release of any of the 2012-dated coins.
Coin Specifications:
Diameter: 26.5 mm
Weight: 8.1g
Thickness: 2.0 mm
Edge: Lettered
Composition: 88.5% copper, 6% zinc, 3.5% manganese, 2% nickel
Coin Mintages:
Philadelphia: 5,460,000
Denver: 4,060,000
San Francisco (Proof): 1,486,680
Other 2012 Presidential Dollars: