The Andrew Jackson Presidential Dollar (Buy on eBay) was released on August 14, 2008. This was the seventh coin in the Presidential Dollars series and the third release of 2008. Notably, this coin broke the streak of declining production figures for Presidential Dollar coin releases.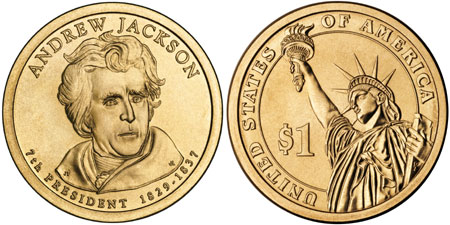 Andrew Jackson was a national hero due to his service in the American Revolutionary War and the War of 1812 before becoming president. As president, he worked to strengthen the executive branch of the government, vetoing more bills than the prior six presidents combined. He helped reshape American politics and left a lasting impact on the nation's political landscape with the foundation of the Democratic Party. He served two terms as the 7th President of the United States from 1829-1837.
The official launch ceremony for the Andrew Jackson Presidential Dollar was held at the Hermitage near Nashville, Tennessee. This was President Jackson's former home. The United States Mint Deputy Director Andrew Brunhart and the past regent of the Hermitage Board of Directors Richard Cowart were in attendance. A ceremonial "coin pour" of new Andrew Jackson Dollars took place. The public was invited to exchange their paper dollars for new dollar coins.
The obverse of the Andrew Jackson Presidential Dollar features a portrait of the President, while the reverse features a rendition of the Statue of Liberty. The obverse was designed by Joel Iskowitz and sculpted by Jim Licaretz. The reverse was designed and sculpted by Don Everhart.
The obverse includes the inscriptions "ANDREW JACKSON," "7th PRESIDENT," and the years of his presidential term "1829-1837." The reverse inscriptions include "UNITED STATES OF AMERICA," and the denomination "$1." The date and mint mark are located on the edge inscription of the coin along with the mottoes "IN GOD WE TRUST" and "E PLURIBUS UNUM."
The Philadelphia mint produced 61,080,000 coins. The Denver mint produced 61,070,000 coins. The total was slightly greater than overall circulating coin production figures for the prior coin honoring John Quincy Adams.
Coin Specifications:
Denomination: $1.00
Composition: 88.5% copper, 6% zinc, 3.5% manganese, 2% nickel
Diameter: 26.5 mm
Weight: 8.1g
Thickness: 2.0 mm
Edge: lettered
Coin Mintages:
Philadelphia: 61,080,000
Denver: 61,070,000
San Francisco (Proof): 3,083,940
Other 2008 Presidential Dollars:

< John Quincy Adams | Martin Van Buren >