The 2010 Millard Fillmore Presidential Dollar (Buy on eBay) continued the series honoring the former Presidents of the United States in the order served. This was the first issue of the year and the thirteenth release for the series overall. The coins were officially released into circulation on February 18, 2010.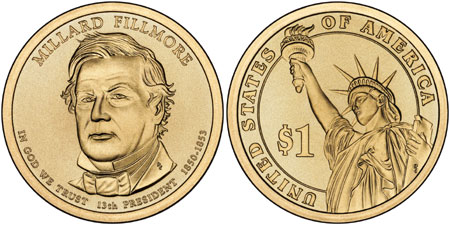 After briefly practicing law, Millard Fillmore entered politics and served as an assemblyman in the state of New York. He went on to be elected to the House of Representatives, where he would chair the Committee on Ways and Means. Later, he served as vice president under Zachary Taylor and assumed the presidency following Taylor's death in 1850. He would serve as president for the remainder of the term until 1853 and make two unsuccessful bids for reelection.
An official launch ceremony for the Millard Fillmore Presidential Dollar was held in Moravia, New York. The ceremony was co-hosted by the United State Mint and the Cayuga-Owasco Lakes Historical Society. A separate, unofficial ceremony was held in Buffalo, where Fillmore had retired and served as first chancellor of the University of Buffalo.
The obverse of the Millard Fillmore Dollar features a portrait designed and sculpted by Don Everhart. The obverse inscriptions read "MILLARD FILLMORE", "IN GOD WE TRUST", "13th PRESIDENT" and the years served "1850-1853".
The reverse of the coin features the Statue of Liberty, also designed by Everthart, with inscriptions include "UNITED STATES OF AMERICA" and the denomination "$1." The date, mint mark, and motto "E PLURIBUS UNUM" appear on the edge of the coin.
The Millard Fillmore Dollar was struck for circulation at the Philadelphia and Denver Mints. The total mintage across both facilities was 74,480,000, which represented the lowest overall mintage for the series to date. A lower figure would eventually be seen for the James Buchanan Presidential Dollar issued later in the year.
Coin Specifications:
Denomination: $1.00
Composition: 88.5% copper, 6% zinc, 3.5% manganese, 2% nickel
Diameter: 26.5 mm
Weight: 8.1g
Thickness: 2.0 mm
Edge: lettered
Coin Mintages:
Philadelphia: 37,520,000
Denver: 36,960,000
San Francisco (Proof): 2,224,613
Other 2010 Presidential Dollars:

< Zachary Taylor | Franklin Pierce >