Rutherford B. Hayes Proof Presidential Dollars (Buy on eBay) are collectible versions of the circulating coins. 
These proof coins were offered in the 2011 Presidential $1 Coin Proof Set, 2011 US Proof Set and 2011 US Silver Proof Set and as individual Proof coins. These products were available directly from the US Mint.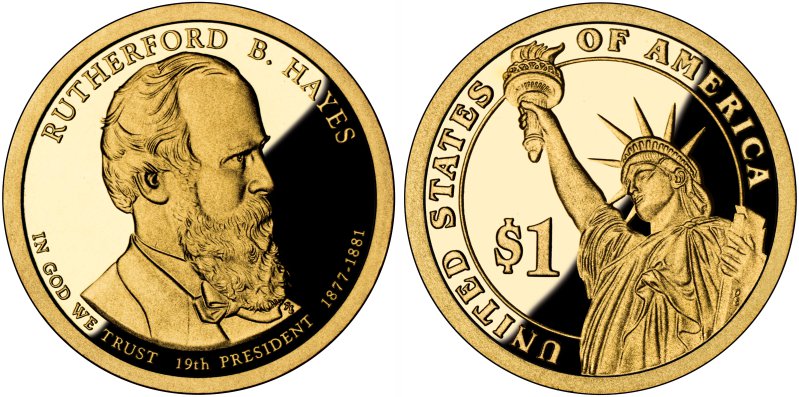 The date and mint mark are located on the edge inscription of the coin. 
Coin Specifications: 
Diameter:

26.5 mm

 

Weight:

8.1g

 

Thickness:

2.0 mm

 

Edge:

Lettered

 

Composition:

77% copper, 12% zinc, .070 manganese, .040 nickel

 

Proof Mintage

: 1,972,863

 
Rutherford B. Hayes Background: 
He is perhaps best known for having won what was at the time the most deeply contested election in American history. A Civil War veteran, he worked to heal the divisions of the war in office and began what would later become civil service reform. 
The Morgan silver dollar program began during his tenure. 
Notable quote: "Nothing brings out the lower traits of human nature like office seeking." "It is now true that this is God's country if equal rights — a fair start and an equal chance at the race of life – are everywhere secured to all. 
Born:

October 4, 1822 in Delaware, OH

 

Spouse:

Lucy Web Hayes

 

Died:

January 17, 1893 in Freemont, OH

 
Related: