On October 8, 2008, the United States Mint unveiled the the 2009 Presidential Dollar designs for the first time. The next four releases of the Presidential Dollar coin series would honor former Presidents William Henry Harrison, John Tyler, James K. Polk, and Zachary Taylor.
Starting with 2009, the motto "In God We Trust" was moved to the obverse of the coin. For the first two years of the series, the motto appeared on the edge lettering of the coin. The move followed with public confusion about the location of the motto which led some people to call for a boycott of the new coin.
Each design is based on official White House portraits, intaglio prints, and medal designs. The coin honoring William Henry Harrison was designed and sculpted by Joseph Menna. Phebe Hemphill designed and sculpted the coin honoring John Tyler was designed. The coin honoring James K. Polk was designed by Susan Gamble and sculpted by Charles L. Vickers. The final release of 2009 honoring Zachary Taylor was designed and sculpted by Don Everhart.
Line Art of 2009 Presidential Dollar Designs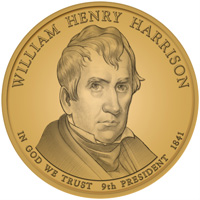 William Henry Harrison Dollar
9th President (1841)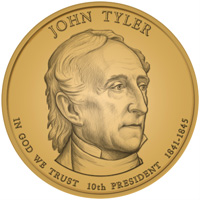 John Tyler Presidential Dollar
10th President (1841-1845)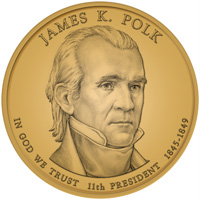 James K. Polk Presidential Dollar
11th President (1845-1849)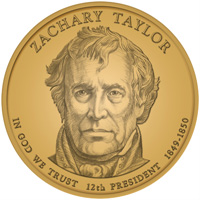 Zachary Taylor Presidential Dollar
12th President (1849-1850)
Images courtesy of the U.S. Mint


< Treasury Suspends Production | 2010 Presidential Dollar Designs >