Woodrow Wilson Proof Presidential Dollars (Buy on eBay) are collectible versions of the circulating coins. 
These proof coins were offered in a 2013 Presidential $1 Coin Proof Set, 2013 US Proof Set and 2013 US Silver Proof Set and as individual Proof coins. These products were available directly from the US Mint. 
The date and mint mark are located on the edge inscription of the coin.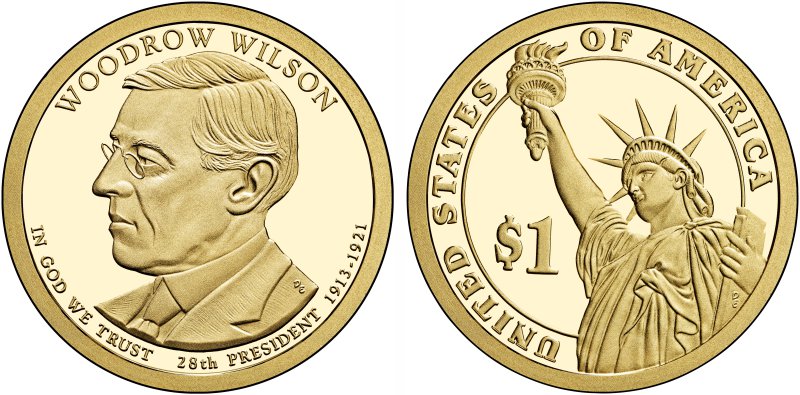 Sales of the 2013 Presidential $1 Coin Proof Sets reached another low of 266,677 sold. 
Coin Specifications: 
Diameter:

26.5 mm

 

Weight:

8.1g

 

Thickness:

2.0 mm

 

Edge:

Lettered

 

Composition:

77% copper, 12% zinc, .070 manganese, .040 nickel

 

Proof Mintage

: 1,488,798

 
Woodrow Wilson Background: 
He passed the Federal Reserve Act and established the Federal Trade Commission and led the country during World War II, later trying unsuccessfully to have it join the League of Nations. 
During his tenure, the Winged Liberty Head dime, Standing Liberty quarter and Walking Liberty half all debuted in 1916.  
Notable quote: "Some people call me an idealist. Well, that is the way I know I am an Americana. Americ is the only idealistic nation in the world." 
Born:

December 28, 1856 in Staunton, VA

 

Spouse:

Edith Wilson, Ellen Wilson

 

Died:

February 3, 1924 in Washington, DC at Wilson House

 
Related: