Harry S. Truman Proof Presidential Dollars (Buy on eBay) are collectible versions of the circulating coins. 
These proof coins were offered in a 2015 Presidential $1 Coin Proof Set, 2015 US Proof Set and 2015 US Silver Proof Set and as individual Proof coins. These products were available directly from the US Mint. 
In addition, on June 30, 2015, the Mint offered a Truman Presidential Coin and Chronicles set that included the first-ever Reverse Proof modern clad dollar coin and the first coin of this type in the Presidential $1 coin series. The sets were limited to 17,000 units, sold out in hours and quickly saw their secondary market value go from the $57.95 issue price to $150 and more. Today the sets are worth $250. Many collectors complained that they were unable to place an order. 
The date and mint mark are located on the edge inscription of the coin.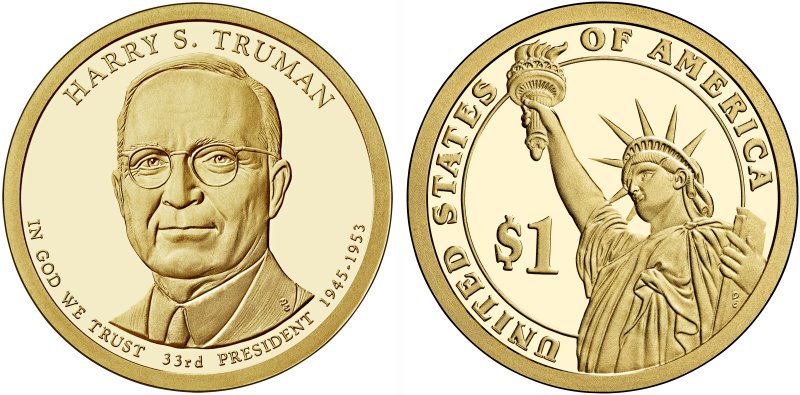 Sales of the 2015 Presidential $1 Coin Proof Sets reached 222,068 sold. 
Coin Specifications: 
Diameter:

26.5 mm

 

Weight:

8.1g

 

Thickness:

2.0 mm

 

Edge:

Lettered

 

Composition:

77% copper, 12% zinc, .070 manganese, .040 nickel

 

Proof Mintage

: 1,191,876

 

Reverse Proof Mintage:

16,812

 
Harry S. Truman Background: 
Known as "Give "Em Hell Harry," Truman made difficult decisions such as the one to drop atomic bombs on Hiroshima and Nagasaki, which quickly brought an end to World War II. He also was involved in the start of the Cold War and of the Korean War. 
Notable quotes: "The buck stops here." "If you want a friend in Washington, get a dog." "A statesman is a politician who has been dead for 10 or 15 years." 
Born:

May 8, 1884 in Lamar, MO

 

Spouse:

Bess Truman

 

Died:

December 26, 1972 in Kansas City, MO

 
Related: