Grover Cleveland (first term) Proof Presidential Dollars (Buy on eBay) are collectible versions of the circulating coins. 
These proof coins were offered in the 2012 Presidential $1 Coin Proof Set, 2012 US Proof Set and 2012 US Silver Proof Set and as individual Proof coins. These products were available directly from the US Mint. 
The date and mint mark are located on the edge inscription of the coin.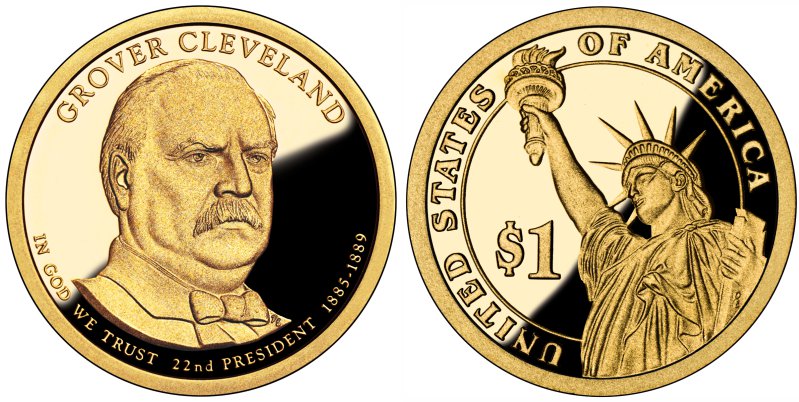 Sales of the 2012 Presidential $1 Coin Proof Sets reached another low of 249,265 sold. 
Coin Specifications: 
Diameter:

26.5 mm

 

Weight:

8.1g

 

Thickness:

2.0 mm

 

Edge:

Lettered 

Composition:

77% copper, 12% zinc, .070 manganese, .040 nickel

Proof Mintage

: 1,438,743

 
Grover Cleveland Background: 
He took against during his tenure to deal with scandals involving railroad rates and passed the Interstate Commerce Act. He is also the only president who returned four years to the office four years after his first term ended. 
During his time as president, 1,000-coin bags of Morgan dollars piled up in Treasury vaults since they were not needed for commerce. 
Notable quote: "It is the responsibility of the citizens to support their government. It is not the responsibility of the government to support its citizens."  
Born:

March 18, 1837 in Caldwell, NJ

 

Spouse:

Frances Cleveland

 

Died:

June 24, 1908 in Princeton, NJ

 
Related: