Millard Fillmore Proof Presidential Dollars are collectible versions of the circulating coins. 
These proof coins were offered in a 2010 Presidential $1 Coin Proof Set, 2010 US Proof Set and 2010 US Silver Proof Set and as individual Proof coins. These products were available directly from the US Mint. 
The date and mint mark are located on the edge inscription of the coin.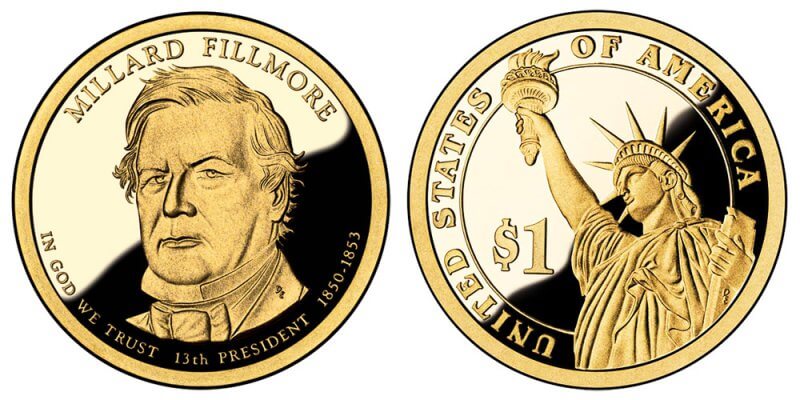 Coin Specifications: 
Diameter:

26.5 mm

 

Weight:

8.1g

 

Thickness:

2.0 mm

 

Edge:

Lettered

 

Composition:

88.5% copper, 6% zinc, 3.5% manganese, 2% nickel

 
Millard Fillmore Background: 
He is best remembered for the debates over the Compromise of 1850, which called for the admission of California as a "free state" and for the abolition of slavery in Washington, DC. Fillmore favored these measures.   
Notable quote: "An honorable defeat is better than a dishonorable victory." "The man who can look upon a crisis without being willing to offer himself upon the altar of the country is not for public trust." 
Born:

January 7, 1800 in Summer Hill, NY

 
Spouse:

Caroline Fillmore, Abrigail Filmore

 

Died:

March 8, 1874 in Buffalo, NY

 
Related: