Lyndon B. Johnson Proof Presidential Dollars (Buy on eBay) are collectible versions of the circulating coins. 
These proof coins were offered in a 2015 Presidential $1 Coin Proof Set, 2015 US Proof Set and 2015 US Silver Proof Set and as individual Proof coins. These products were available directly from the US Mint. 
In addition, on October 27, 2015, the Mint offered a Johnson Presidential Coin and Chronicles set that included a Reverse Proof version of this coin. The sets were limited to 25,000 units and sold out within several hours.    
The date and mint mark are located on the edge inscription of the coin.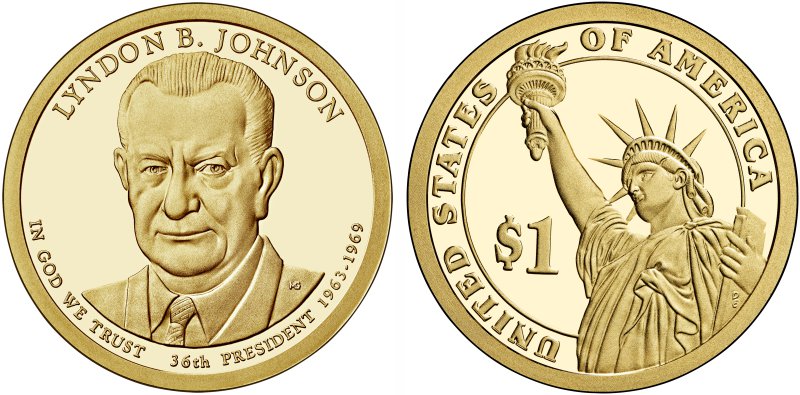 Sales of the 2015 Presidential $1 Coin Proof Sets reached 222,068 sold. 
Coin Specifications: 
Diameter:

26.5 mm

 

Weight:

8.1g

 

Thickness:

2.0 mm

 

Edge:

Lettered

 

Composition:

77% copper, 12% zinc, .070 manganese, .040 nickel

 

Proof Mintage

: 1,191,876

 

Reverse Proof Mintage:

23,905

 
Lyndon B. Johnson Background: 
LBJ, who became president when he was serving as Kennedy's Vice President and JFK was killed, is mainly remembered for his Great Society programs including the establishment of Medicare and for desegregation, but he is also known for expanding the war in Vietnam that was not going well.   
Notable quotes: "If the government is to serve any purpose, it is to do for others what they are unable to do for themselves."  
Born:

August 27, 1908 in Stonewall, TK

 

Spouse:

Lady Bird Johnson

 

Died:

January 22, 1973 in Johnson City, TX

 
Related: