On December 8, 2009, the United States Mint unveiled the 2010 Presidential Dollar designs. This continued the series of circulating dollar coins issued to honor the former Presidents of the United States. The four coins released during 2010 featured Millard Fillmore, Franklin Pierce, James Buchanan, and Abraham Lincoln.
The obverse of each coin features a bold portrait of the former Presidents along with inscriptions indicating their name, order of Presidency, years served, and "In God We Trust." The reverse of each coin features the Statue of Liberty design that has been used throughout the series and inscriptions "UNITED STATES OF AMERICA," and "$1." Incuse edge lettering will have the date, mint mark, and motto "E Pluribus Unum."
The Presidential Dollar coins released next year are the work of several different designers and engravers. Don Everhart designed and sculpted the coins featuring Millard Fillmore and Abraham Lincoln. The coin featuring Franklin Pierce was designed by Susan Gamble and sculpted by Charles L. Vickers. The coin featuring James Buchanan was designed and engraved by Phebe Hemphill.
Line Art of 2010 Presidential Dollar Designs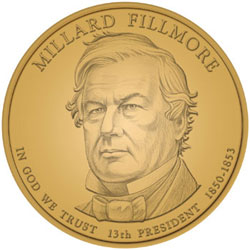 Millard Fillmore Dollar
13th President (1850-1853)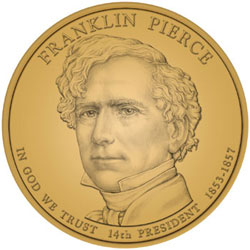 Franklin Pierce Dollar
14th President (1853-1857)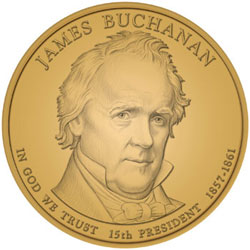 James Buchanan Dollar
15th President (1857-1861)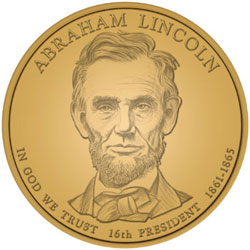 Abraham Lincoln Dollar
16th President (1861-1865)
Images courtesy of the U.S. Mint


< 2009 Presidential Dollar Designs | 2011 Presidential Dollar Designs >