William Henry Harrison Proof Presidential Dollars (Buy on eBay) are collectible versions of the circulating coins struck in Proof. 
Proof coins are specially minted with sharp relief on polished and treated blanks. Coins have frosted raised design elements and mirrored backgrounds, which results in a cameo effect.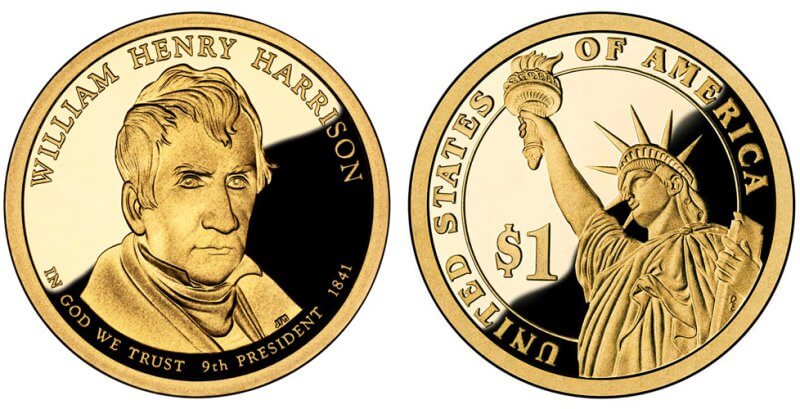 These coins were offered in a 2009 Presidential $1 Coin Proof Set, 2009 US Proof Set and 2009 US Silver Proof Set and as individual Proof coins. 
The date and mint mark are located on the edge inscription of the coin.  
Coin Specifications: 
Diameter:

26.5 mm

 

Weight:

8.1g

 

Thickness:

2.0 mm

 

Edge:

Lettered

 
Composition:

77% copper, 12% zinc, .070 manganese, .040 nickel

 

Proof Mintage

: 2,809,452

 
William Henry Harrison background: 
He is remembered as the president who won the Battle of Tippecanoe in 1811 fought against Native Americans. He also was the first president to die in office and had the shortest term, just one month. 
Notable quote: "The prudent capitalist will never venture his capital…. if there exists a state of uncertainty as to whether the government will repeal tomorrow what it has enacted today." 
Born:

February 9, 1773, Berkley Plantation, VA

 

Spouse:

Anna Harrison

 

Died:

April 4, 1841, Washington, DC

 
Related: