The James Madison Presidential Dollar (Buy on eBay) was released into circulation on November 15, 2007. This represented the fourth overall release in the Presidential Dollar coin series and the final coin released for the year 2007.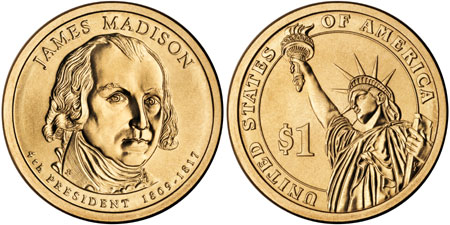 James Madison was an important figure in determining the course of the early United States. With Alexander Hamilton and John Jay, he wrote the Federalist Papers, which advocated the adoption of the U.S. Constitution. He also helped secure passage of the Bill of Rights. He served two terms as the 4th President of the United States from 1809 to 1817.
There was no official launch ceremony held for the James Madison Presidential Dollar. This is one of only a few situations where a launch ceremony was not organized by the United States Mint for a new release of the series.
The obverse of the James Madison Dollar features a portrait of the President and the reverse features a rendition of the Statue of Liberty. The obverse designer was Joel Iskowitz and the sculptor was Don Everhart. The reverse designer/sculptor was Don Everhart.
The obverse includes the inscriptions "JAMES MADISON," "4th PRESIDENT," and the years of his presidential term "1809-1817." The reverse inscriptions include "UNITED STATES OF AMERICA," and the denomination "$1." The date and mint mark are located on the edge inscription of the coin along with the mottoes "IN GOD WE TRUST" and "E PLURIBUS UNUM."
Circulating coin production for the James Madison Dollar showed another drop from the level for prior release. This continued the trend of lower overall mintages for each release of the Presidential Dollar coin series. The Philadelphia mint produced 84,560,000 coins and the Denver mint produced 87,780,000 coins.
Coin Specifications:
Denomination: $1.00
Composition: 88.5% copper, 6% zinc, 3.5% manganese, 2% nickel
Diameter: 26.5 mm
Weight: 8.1g
Thickness: 2.0 mm
Edge: lettered
Coin Mintages:
Philadelphia: 84,560,000
Denver: 87,780,000
San Francisco (Proof): 3,965,989
Other 2007 Presidential Dollars:

< Thomas Jefferson | James Monroe >