Theodore Roosevelt Proof Presidential Dollars (Buy on eBay) are collectible versions of the circulating coins. 
These proof coins were offered in the 2013 Presidential $1 Coin Proof Set, 2013 US Proof Set and 2013 US Silver Proof Set and as individual Proof coins. These products were available directly from the US Mint. 
The date and mint mark are located on the edge inscription of the coin.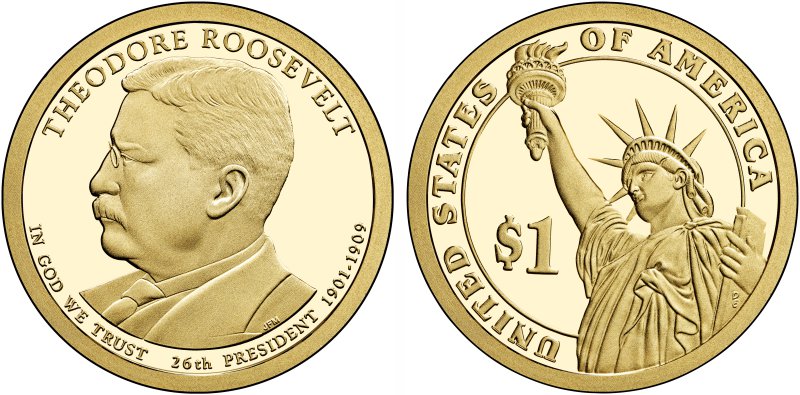 Sales of the 2013 Presidential $1 Coin Proof Sets sold 266,677 units. 
Coin Specifications: 
Diameter:

26.5 mm

 

Weight:

8.1g

 

Thickness:

2.0 mm

 

Edge:

Lettered

 

Composition:

77% copper, 12% zinc, .070 manganese, .040 nickel

 

Proof Mintage

: 1,503,943

 
Theodore Roosevelt Background: 
The youngest person elected president at age 43, Teddy Roosevelt is one of the most widely admired former presidents known for his progressive reforms such as breaking up large companies that had become monopolies and for having a strong foreign policy of "speak softly, but carry a big stick," which meant strive for peace but with the threat of violence if negotiations failed. 
During his time as president, he began a project with Augustus Saint-Gaudens to redesign American coinage beginning with the $10 and $20 gold coins. He is the only president who worked closely on this issue. 
Notable quotes: "It is hard to fail, but it is worse never to have tried to success. In this life we get nothing save by effort."  
"To announce that there must be no criticism of the president, or that we are to stand by the president, right or wrong, is not only unpatriotic and servile, but is morally treasonable to the American public."  
Born:

October 27, 1858 in New York, NY at Theodore Roosevelt National Historic Site

 

Spouse:

Edith Kermit Carow Roosevelt

 

Died:

January 6, 1919 in Cove Neck, NY

 
Related: