James Garfield Proof Presidential Dollars (Buy on eBay) are collectible versions of the circulating coins. 
These proof coins were offered in 2011 Presidential $1 Coin Proof Set, 2011 US Proof Set and 2011 US Silver Proof Set and as individual Proof coins. These products were available directly from the US Mint. 
The date and mint mark are located on the edge inscription of the coin.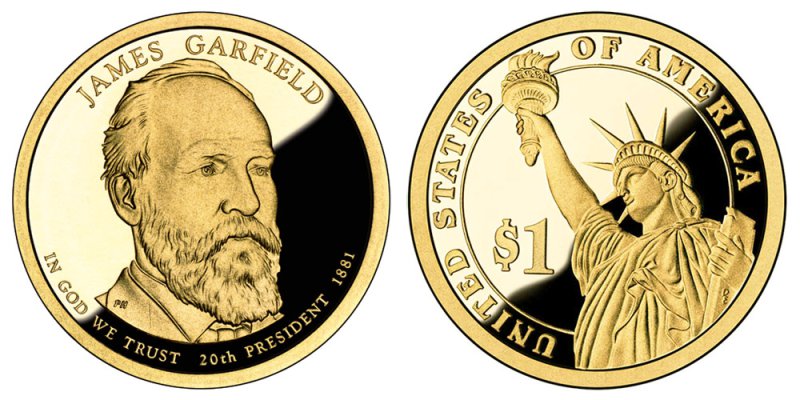 Coin Specifications: 
Diameter:

26.5 mm

 

Weight:

8.1g

 

Thickness:

2.0 mm

 

Edge:

Lettered

 

Composition:

88.5% copper, 6% zinc, 3.5% manganese, 2% nickel

 
James Garfield Background: 
A former classics professor and college president, state legislator and a 9-term (18 year) member of the House of Representatives, he is best known for having been assassinated 200 days into his presidential term by an attorney who failed to secure a consular post in his administration. He died not from the gunshot wounds but from an infection cause by poor hygiene on the part of his doctors. 
Notable quote: "Whoever controls the volume of money in any country is absolute master of all industrial commerce. 
Born:

November 19, 1831 in Moreland Hills, OH

 

Spouse:

Lucretia Garfield

 

 

Died:

September 19, 1891 in Long Branch, NJ

 
Related: