In addition to the coins minted for general circulation, the United States Mint also produces Proof Presidential Dollars (Buy on eBay). These specially minted coins are issued within annual sets or other numismatic products created for collectors.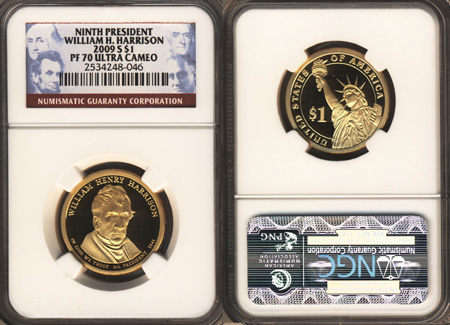 A proof version of each coin within the series is expected to be available. The coins are released on the same schedule as the circulating coins, but generally all four annual designs are released at the same time at the beginning of the year.
Proof quality coins are created by the US Mint through a special production process. The coins are struck multiple times from specially prepared dies, which create sharp features and a cameo finish. The raised design elements appear frosted, while the background fields appear mirrored. As a result, the portraits and lettering appear to float on reflective, liquid-like fields. All proof coins are currently produced at the San Francisco Mint and bear the "S" mint mark.
The Proof Presidential Dollars have been incorporated into a number of different annual sets and products:
Annual Proof Sets (2007-2016)
Annual Silver Proof Sets (2007-2016)
American Legacy Collections (2007-2008)
Presidential Dollar Proof Sets (2007-present)
Individual Presidential Dollar Proof Coins (2007-2008)
Presidential Dollar Historical Signature Sets (2007-2008)
Third party coin grading companies such as PCGS and NGC will encapsulate Proof Presidential Dollars and assign a grade. Because of the special minting process, higher grades are possible, with many coins receiving the top grade of PCGS PR70DCAM or NGC PF 70 Ultra Cameo.
Proof Presidential Dollar Mintages
| | |
| --- | --- |
| 2007-S George Washington | 3,965,989 |
| 2007-S John Adams | 3,965,989 |
| 2007-S Thomas Jefferson | 3,965,989 |
| 2007-S James Madison | 3,965,989 |
| 2008-S James Monroe | 3,083,940 |
| 2008-S John Quincy Adams | 3,083,940 |
| 2008-S Andrew Jackson | 3,083,940 |
| 2008-S Martin Van Buren | 3,083,940 |
| 2009-S William Henry Harrison | 2,809,452 |
| 2009-S John Tyler | 2,809,452 |
| 2009-S James K. Polk | 2,809,452 |
| 2009-S Zachary Taylor | 2,809,452 |
| 2010-S Millard Fillmore | 2,224,613 |
| 2010-S Franklin Pierce | 2,224,613 |
| 2010-S James Buchanan | 2,224,613 |
| 2010-S Abraham Lincoln | 2,224,613 |
| 2011-S Andrew Johnson | 1,972,863 |
| 2011-S Ulysses S. Grant | 1,972,863 |
| 2011-S Rutherford B. Hayes | 1,972,863 |
| 2011-S James Garfield | 1,972,863 |
| 2012-S Chester Arthur | 1,486,680 |
| 2012-S Grover Cleveland (1st) | 1,486,680 |
| 2012-S Benjamin Harrison | 1,486,680 |
| 2012-S Grover Cleveland (2nd) | 1,486,680 |
| 2013-S William McKinley | 1,488,857 |
| 2013-S Theodore Roosevelt | 1,488,857 |
| 2013-S William Howard Taft | 1,488,857 |
| 2013-S Woodrow Wilson | 1,488,857 |
| 2014-S Warren Harding | 1,373,569 |
| 2014-S Calvin Coolidge | 1,373,569 |
| 2014-S Herbert Hoover | 1,373,569 |
| 2014-S Franklin D. Roosevelt | 1,373,569 |
| 2015-S Harry S. Truman | 1,271,377 |
| 2015-S Dwight D. Eisenhower | 1,271,377 |
| 2015-S John F. Kennedy | 1,271,377 |
| 2015-S Lyndon B. Johnson | 1,271,377 |