Benjamin Harrison Proof Presidential Dollars (Buy on eBay) are collectible versions of the circulating coins. 
These proof coins were offered in 2012 Presidential $1 Coin Proof Set, 2012 US Proof Set and 2012 US Silver Proof Set and as individual Proof coins. These products were available directly from the US Mint. 
The date and mint mark are located on the edge inscription of the coin.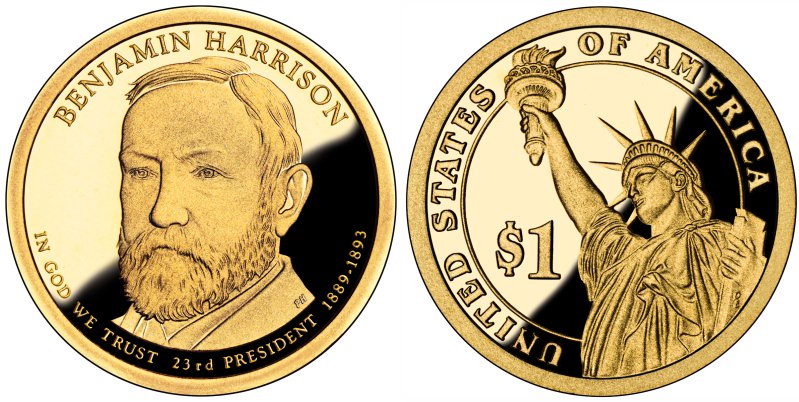 Sales of the 2012 Presidential $1 Coin Proof Sets reached another low of 249,265 sold. 
Coin Specifications: 
Diameter:

26.5 mm

 

Weight:

8.1g

 

Thickness:

2.0 mm

 

Edge:

Lettered

 

Composition:

77% copper, 12% zinc, .070 manganese, .040 nickel

 

Proof Mintage

: 1,438,743

 
Benjamin Harrison Background: 
He was known for the robust economy and successful foreign policy of his tenure. Starting off with a Treasury surplus thanks to high tariff rates, the issue became a problem and towards the end of his tenure the surplus was gone. 
Notable quote: "We Americans have no commission from God to police the world." 
Born:

August 20, 1833 in North Bend, OH

 

Spouse:

Caroline Harrison

 

Died:

March 13, 1901 in Indianapolis, IN

 
Related: