Gerald Ford Proof Presidential Dollars (Buy on eBay) are collectible versions of the circulating coins. 
These proof coins were offered in a 2016 Presidential $1 Coin Proof Set with three coins, 2016 US Proof Set and 2016 US Silver Proof Set and as individual Proof coins. These products were available directly from the US Mint. 
The date and mint mark are located on the edge inscription of the coin.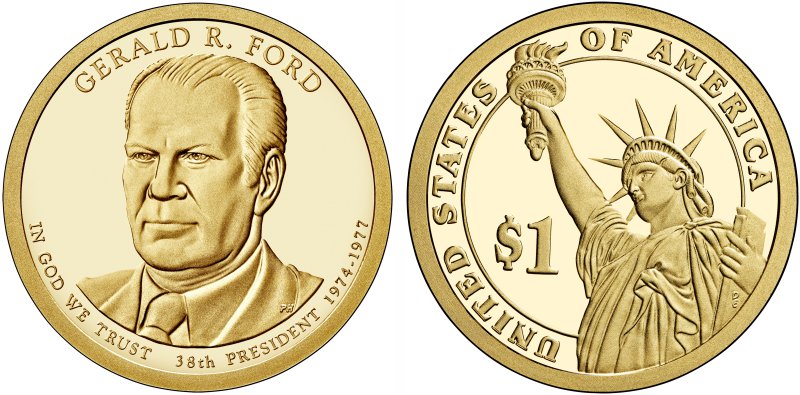 Sales of the 2016 Presidential $1 Coin Proof Sets reached 231,549 sold. 
Coin Specifications: 
Diameter:

26.5 mm

 

Weight:

8.1g

 

Thickness:

2.0 mm

 

Edge:

Lettered

 

Composition:

77% copper, 12% zinc, .070 manganese, .040 nickel

 

Proof Mintage

: 1,196,582

 
Gerald Ford Background: 
Ford was widely criticized for pardoning Nixon, which likely cost him the 1976 election along with the economic situation, which was marked by high inflation and high unemployment, among other problems. 
He is remembered as a kind and fair man and he was known as "Jerry."  
In coinage, the popular Bicentennial coins were issued, but overall the celebrations for the event were toned down because of the nation's pressing economic problems.  
Notable quotes: "Truth is the glue that holds governments together. Compromise is the oil that makes governments go." "A government big enough to give you everything you want is a government big enough to take from you everything you have." 
Born:

July 14, 1913 in Omaha, NE

 

Spouse:

Betty Ford

 

Died:

December 26, 2006 in Rancho Mirage, CA

 
Related: