The Martin Van Buren Presidential Dollar (Buy on eBay) was released for circulation on November 13, 2008. This was the eighth coin in the Presidential Dollars series and the final release for the year 2008.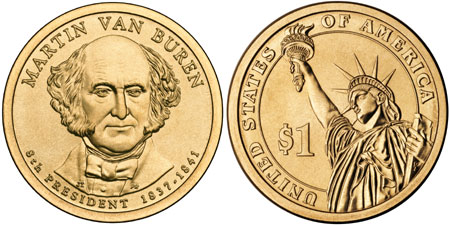 Martin Van Buren was a president of two important firsts. He was the first president from New York, and the first president born as an American Citizen. Before being elected president, he served as governor of New York, Senator, Secretary of State, and vice president. Van Buren served as the 8th president of the United States for one term from 1837 to 1841.
An official launch ceremony for the Martin Van Buren Dollar was held on December 5, 2008 at the Martin Van Buren National Historic Site at Kinderhook, New York. The event was attended by United States Mint Deputy Director Andrew Brunhart, Mayor Bill Van Alstyne, and coin designer Joel Iskowitz. Attendees witnessed a ceremonial coin pour and were allowed to exchange currency for roll of the newly issued coin.
The obverse features a portrait of President Van Buren, designed by Joel Iskowitz and sculpted by Phebe Hemphill. The reverse of the coin features a rendition of the Statue of Liberty by Don Everhart. This design has been used on the reverse of all Presidential Dollars.
The obverse inscriptions include "MARTIN VAN BUREN," "8th PRESIDENT," and the years of his presidential term "1837-1841." The reverse inscriptions include "UNITED STATES OF AMERICA" and the denomination "$1." The date and mint mark are located on the edge inscription of the coin along with the mottoes "IN GOD WE TRUST" and "E PLURIBUS UNUM."
This was the final coin of the series which would include the motto "In God We Trust" on the edge of the coin. In the following year, it was moved to the obverse.
Mintage levels for the series resumed their decline with the Martin Van Buren Presidential Dollar. Just over 100 million coins were produced for circulation at the Philadelphia and Denver Mint facilities.
In addition to the circulation strikes, the United States Mint also produced special versions of the coins for collectors. This included Proof versions struck at the San Francisco Mint and Satin Finish versions struck at the Philadelphia and Denver Mints. These coins were included in annual coin sets and other numismatic products.
Coin Specifications:
Denomination: $1.00
Composition: 88.5% copper, 6% zinc, 3.5% manganese, 2% nickel
Diameter: 26.5 mm
Weight: 8.1g
Thickness: 2.0 mm
Edge: lettered
Coin Mintages:
Philadelphia: 51,520,000
Denver: 50,960,000
San Francisco (Proof): 3,083,940
Other 2008 Presidential Dollars:

< Andrew Jackson | William Henry Harrison >