The William Henry Harrison Dollar (Buy on eBay) was the first release of the Presidential Dollar series for the year 2009. It marked the ninth release in the series overall. Notably, this was the first Presidential Dollar which carried the "In God We Trust" motto on the obverse of the coin rather than the edge lettering. The official release date was February 19, 2009.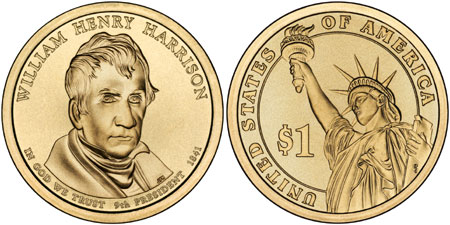 William Henry Harrison became the ninth President of the United States in 1841. He delivered his one hour and 45 minute long inaugural speech during a rainstorm, without wearing a hat or coat. As a result of the exposure to the elements, he developed pneumonia and died just 30 days after his inauguration. He was the first President to die in office.
An official launch ceremony for the William Henry Harrison Dollar was held on Berkeley Plantation in Charles City, Virginia. The event included a ceremonial coin pour, tours of the 18th century manor, a coin exchange, and a free William Henry Harrison Presidential Dollar for children in attendance. The ceremony was attended by US Mint Deputy Director Andrew Brunhart.
The obverse of the coin features a portrait of the former President. It was designed and sculpted by Joseph Menna. The inscriptions include "William Henry Harrison," "In God We Trust," "9th President," and the year of his Presidential term "1841."
The reverse of the coin will continue to bear the same Statue of Liberty design used on all prior coins of the series. The reverse was designed and sculpted by Don Everhart.
The date, mint mark, and motto "E Pluribus Unum" appear on the edge of the coin. Thirteen stars are used to separate the motto and date.
The mintage for the 2009 William Henry Harrison Presidential Dollar marked another low for the series. The Philadelphia Mint produced 43,260,000 coins and the Denver Mint produced 55,160,000 coins. This was the first release of the series with an overall circulation mintage below the 100 million level.
One of the oddities of this release is the high premiums paid on some secondary market venues for US Mint packaged 25-coin numismatic rolls. The US Mint had offered previous Presidential Dollar rolls for extended periods of time, and consequently sold large numbers of them. For the William Henry Harrison Dollar Rolls, the US Mint unexpectedly sold out after customers ordered 30,000 rolls from each Mint facility. Secondary market prices quickly rose to $200 or more for each 25-coin roll, a price level that continues to be maintained. Although some subsequent Presidential Dollar numismatic rolls would have similarly low production runs, none have excessive premiums like the Harrison rolls.
Coin Specifications:
Diameter: 26.5 mm
Weight: 8.1g
Thickness: 2.0 mm
Edge: Lettered
Composition: 88.5% copper, 6% zinc, 3.5% manganese, 2% nickel
Coin Mintages:
Philadelphia: 43,260,000
Denver: 55,160,000
San Francisco (Proof): 2,809,452
Other 2009 Presidential Dollars: