The James K. Polk Presidential Dollar (Buy on eBay) was released on August 20, 2009. It represented the eleventh release in the ongoing Presidential Dollar series, and the third release for the year 2009.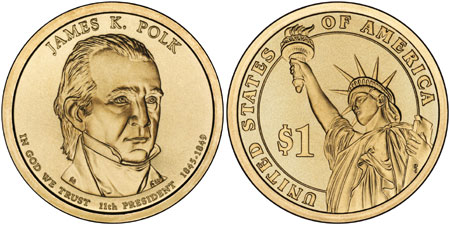 James K. Polk was the 11th President of the United States of America. As a strong proponent of Manifest Destiny, he oversaw the expansion of the country by more than 1 million square miles during his team. Present-day Oregon and Washington were annexed form Great Britain, and Californian and New Mexico were added through the Treaty of Guadalupe Hidalgo.
An official launch ceremony was held for the James K. Polk Presidential Dollar to coincide with the release of the coins into circulation. The ceremony was held on May 21, 2009 in Columbia, Tennessee at the former ancestral home of James K. Polk. Attendees included Andrew Brunhart of the United States Mint, John Seigenthaler, renowned author and journalist, and John Holtzapple, director of the James K. Polk House.
The obverse of the James K. Polk Dollar features a portrait of the former President that was designed by Susan Gamble and sculpted by Charles L. Vickers. The inscriptions include "JAMES K. POLK," "IN GOD WE TRUST," "11th PRESIDENT," and the years of his Presidential term "1845-1849."
The reverse of the coin features the Statue of Liberty, as designed and sculpted by Don Everhart. This design representative of the concept of Liberty has been used throughout the series.
As a change from prior years, the placement of the "IN GOD WE TRUST" motto appears on the obverse of the coin. The other famous motto "E PLURIBUS UNUM," the date, and mint mark will continued to appear on the edge lettering of the coin.
The mintage for the James K. Polk Dollar showed a slight increase from the levels of the prior release of the series. There were a total of 88,340,000 coins produced for circulation at the Philadelphia and Denver Mints.
Coin Specifications:
Denomination: $1.00
Composition: 88.5% copper, 6% zinc, 3.5% manganese, 2% nickel
Diameter: 26.5 mm
Weight: 8.1g
Thickness: 2.0 mm
Edge: lettered
Coin Mintages:
Philadelphia: 46,620,000
Denver: 41,720,000
San Francisco (Proof): 2,809,452
Other 2009 Presidential Dollars:

< John Tyler | Zachary Taylor >