John Adams Proof Presidential Dollars are collectible versions of the circulating coins.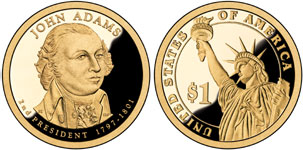 Proof coins are minted with sharp relief on specially treated and polished blanks. Coins have frosted raised design elements and mirrored backgrounds to produce a special cameo finish.
These proof coins were offered in a 2007 Presidential Dollar Coin Proof Set, 2007 US Proof Set, 2007 US Silver Proof Set, and as individual proofs. These products were available directly from the US Mint in the year of issue.
The date and mint mark are located on the edge inscription of the coin. Special packaging was created for the proof sets so collectors could view the edges of the coins.
Coin Specifications:
Diameter: 26.5 mm
Weight: 8.1g
Thickness: 2.0 mm
Edge: Lettered
Composition: 88.5% copper, 6% zinc, 3.5% manganese, 2% nickel
John Adams Quote:
"Facts are stubborn things; and whatever may be our wishes, our inclinations, or the dictates of our passion, they cannot alter the state of facts and evidence."
Born:

October 30, 1735, Braintree, Norfolk, MA

Spouse:

Abigail Adams

Died:

July 4, 1826, Braintree, Norfolk, MA
Related: