On December 22, 2010, the United States Mint announced the 2011 Presidential Dollar designs. The coins honoring the former Presidents have been issued since 2007, at a rate of four per year, in the order served. The next coins in the series featured Andrew Johnson, Ulysses S. Grant, Rutherford B. Hayes, and James Garfield.
The format for the series calls for a large portrait of the President being honored on the obverse design of each coin. Around the outer circumference of the coin are inscriptions for the President's name, "In God We Trust," the order of the Presidency, and the years spent in office. The obverse side of the coin including the portrait rotates to feature each of the former Presidents.
The reverse of the coin contains a constant design for the entire series that is intended to be representative of the concept of Liberty. For this reason, the inscription "Liberty" used on all other circulating U.S. coins is not included on the series. An image of the Statue of Liberty designed by Don Everhart appears with inscriptions "UNITED STATES OF AMERICA" and "$1."
For the coming year's releases, the obverse designs of the coins for Johnson, Grant, and Hayes were designed and sculpted by Don Everhart. The obverse design for the James Garfield coin was designed and sculpted by Phebe Hemphill.
Line Art of 2011 Presidential Dollar Designs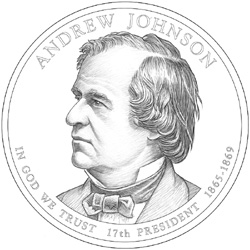 Andrew Johnson Presidential Dollar
17th President (1865-1869)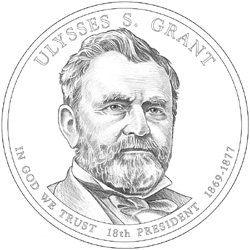 Ulysses S. Grant Presidential Dollar
18th President (1869-1877)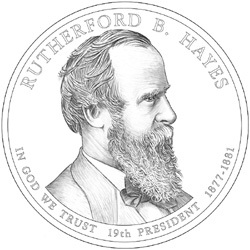 Rutherford B. Hayes Presidential Dollar
19th President (1877-1881)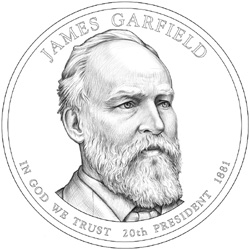 James Garfield Presidential Dollar
20th President (1881)
Images courtesy of the U.S. Mint


< 2010 Presidential Dollar Designs