The Franklin Pierce Presidential Dollar (Buy on eBay) was the second coin issued during 2010 for the Presidential Dollar coin series. It represented the fourteenth release overall for the series, which began in 2007 to honor the former presidents of the United States.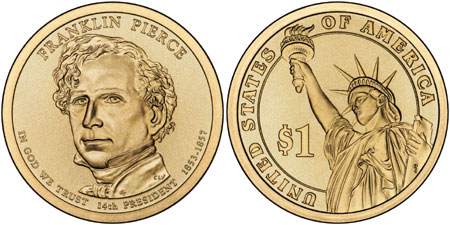 Before becoming the president, Franklin Pierce had been elected to the New Hampshire legislature and served in the House of Representatives and Senate. During his single term in the highest office from 1853 to 1857, he negotiated the purchase of what would become Arizona and New Mexico. He also passed the Kansas-Nebraska Act, which replaced the Compromise of 1850 with the concept of "popular sovereignty."
The official launch ceremony for the coin was held on May 20, 2010 to coincide with the circulation release date. The event was held at Pierce Manse, the former President's home in Concord, New Hampshire, co-hosted by the Franklin Pierce College and the Pierce Brigade. On hand for the occasion was United States Mint Deputy Director Andrew Brunhart and local school children who received a free coin to commemorate the day.
The obverse of the Franklin Pierce Presidential Dollar featured a portrait designed by Susan Gamble and engraved by Charles L. Vickers. The inscriptions read "FRANKLIN PIERCE," "IN GOD WE TRUST," "14th PRESIDENT" and the years of his Presidential term "1853-1857."
The reverse of the coin featured a rendition of the Statue of Liberty, designed and engraved by Don Everhart. This image has been used as the reverse design for each coin in the Presidential Dollar series so far. Inscriptions read "UNITED STATES OF AMERICA" and the denomination "$1."
The Presidential Dollars continued to use incuse edge lettering for some required elements. The date, mint mark, and "E PLURIBUS UNUM" appeared as such on the edge of the coin, along with thirteen stars.
Franklin Pierce Presidential Dollars were produced for circulation, as well as in special versions or numismatic products for collectors. The circulating version had a mintage of 38,220,000 Philadelphia Mint coins and 38,360,000 Denver Mint coins. Significantly fewer coins were struck at the same mints in satin finish version for inclusion inclusion in annual sets and some products. A Proof version was struck at the San Francisco Mint for inclusion in the Proof Sets and Silver Proof Sets issued for the year.
Coin Specifications:
Denomination: $1.00
Composition: 88.5% copper, 6% zinc, 3.5% manganese, 2% nickel
Diameter: 26.5 mm
Weight: 8.1g
Thickness: 2.0 mm
Edge: lettered
Coin Mintages:
Philadelphia: 38,220,000
Denver: 38,360,000
San Francisco (Proof): 2,224,613
Other 2010 Presidential Dollars:

< Millard Fillmore | James Buchanan >