Warren G. Harding Proof Presidential Dollars (Buy on eBay) are collectible versions of the circulating coins. 
These proof coins were offered in a 2014 Presidential $1 Coin Proof Set, 2014 US Proof Set and 2014 US Silver Proof Set and as individual Proof coins. These products were available directly from the US Mint. 
The date and mint mark are located on the edge inscription of the coin.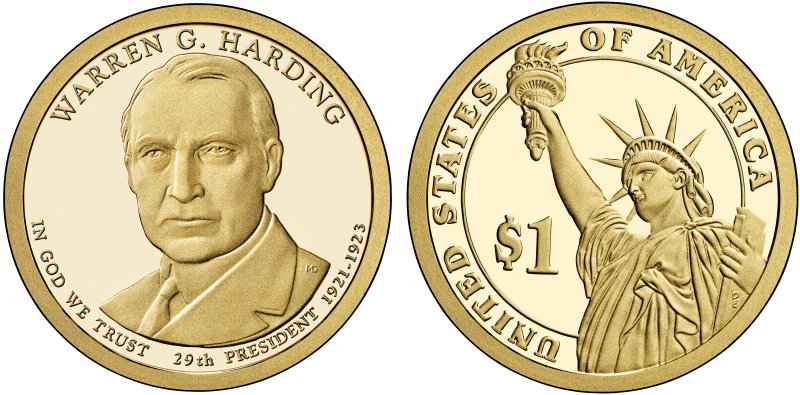 Sales of the 2014 Presidential $1 Coin Proof Sets reached another low of 218,976 sold, which was a new low. 
Coin Specifications: 
Diameter:

26.5 mm

 

Weight:

8.1g

 

Thickness:

2.0 mm

 

Edge:

Lettered

 

Composition:

77% copper, 12% zinc, .070 manganese, .040 nickel

 

Proof Mintage

: 1,373,569

 
Warren G. Harding Background: 
He is best known for the 1921 economic recession, a series of scandals like the Teapot Dome and others that only came to light after his passing. 
In coinage, 1921 saw the resumption of the Morgan dollar and at the end of the year the debut of Peace dollars. Due to the economic situation production of most other circulating coins was kept to a minimum. 
Notable quote: "My God, this is a hell of a job. I have no trouble with my enemies…. but my damn friends, they are the ones that kept me walking the floor nights. 
Born:

November 2, 1865 in Blooming Grove, OH

 

Spouse:

Florence Harding

 

Died:

August 2, 1923 in San Francisco, CA

 
Related: