The George Washington Presidential Dollar (Buy on eBay) was released on February 15, 2007 as the first coin of the Presidential Dollar series. The series will feature each President of the United States of America in the order served, at a rate of four new designs per year. The new dollar coins will be issued for circulation and produced in special collector versions by the United States Mint.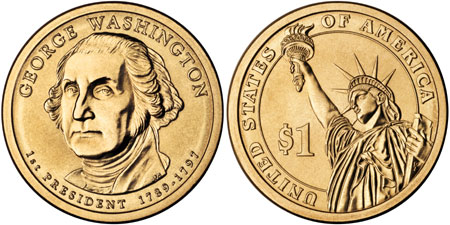 George Washington was the General and Commander in Chief of the Continental Army during the American Revolutionary War before he was unanimously elected as the first President of the United States. He played a pivotal role in the nation's founding and shaped the early course of American history. He served two terms as President of the United States from 1789-1797.
An official launch ceremony for the George Washington Dollars was held at Grand Central Terminal in New York City. The ceremony was attended by United States Mint Director Edmund Moy. George Washington imitators greeted some of the City's commuters in honor of the new coin.
The obverse of the coin features a portrait of President Washington and the reverse features a rendition of the Statue of Liberty that will be used for all Presidential Dollars. The obverse designer/sculptor was Joseph Menna. The reverse designer/sculptor was Don Everhart.
The obverse features inscriptions "GEORGE WASHINGTON," "1st PRESIDENT," and the years of his presidential term "1789-1797." The reverse inscriptions include "UNITED STATES OF AMERICA," and the denomination "$1." The date and mint mark are located on the edge inscription of the coin along with the mottoes "IN GOD WE TRUST" and "E PLURIBUS UNUM."
Placement of the motto "In God We Trust" on the edge of the coin was a source of controversy. Many people believed that the motto had been omitted from the coins in an attempt to "phase Gold out of America." There were many calls to boycott the new $1 coins, including a widely distributed email chain letter. The motto, of course, was still present on the edge of the coin.
Adding some confusion to the situation, approximately 100,000 George Washington Presidential Dollars were struck in error missing the edge lettering, which meant that they actually did lack the motto. The U.S. Mint would modify their production process to vastly reduce the incidence of this error, and eventually Congress would mandate the placement of "In God We Trust" on the obverse of the coin starting with 2009.
The George Washington Presidential Dollar had the highest overall mintage for the series with more than 300 million coins produced for circulation. The Philadelphia mint produced 176,680,000 coins, and the Denver mint produced 163,680,000 coins.
Coin Specifications:
Denomination: $1.00
Composition: 88.5% copper, 6% zinc, 3.5% manganese, 2% nickel
Diameter: 26.5 mm
Weight: 8.1g
Thickness: 2.0 mm
Edge: lettered
Coin Mintages:
Philadelphia: 176,680,000
Denver: 163,680,000
San Francisco (Proof): 3,965,989
Other 2007 Presidential Dollars: