Zachary Taylor Proof Presidential Dollars are collectible versions of the circulating coins. 
These proof coins were offered in a 2009 Presidential $1 Coin Proof Set, 2009 US Proof Set and 2009 US Silver Proof Set and as individual Proof coins. These products were available directly from the US Mint. 
The date and mint mark are located on the edge inscription of the coin.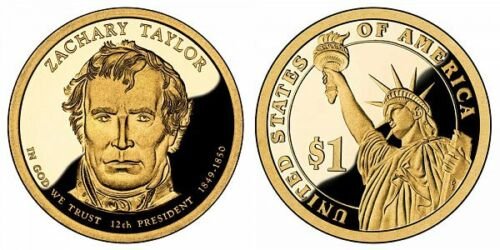 Coin Specifications: 
Diameter:

26.5 mm

 

Weight:

8.1g

 

Thickness:

2.0 mm

 

Edge:

Lettered

 

Composition:

77% copper, 12% zinc, .070 manganese, .040 nickel

 
Zachary Taylor Background: 
Known by the nickname, "Old Rough and Ready," Taylor is remembered as the hero of the War with Mexico and was popular in both the North and South. The California Gold Rush heated up greatly during his administration. 
Notable quote: "For more than half a century during which kingdoms and empires have fallen, the Union has stood unshaken. The patriots who formed it have long since descended to the grave; yet it still remains the proudest monument to their memory. 
Born:

November 24, 1784, Orange County, VA

 
Spouse:

Margaret Taylor

 

Died:

July 9, 1850, Washington DC

 
Related: