The series of $1 coins honoring the former Presidents of the United States continued with the issuance of the 2012 Benjamin Harrison Presidential Dollar (Buy on eBay). This was the third release of the year and the twenty-third release overall.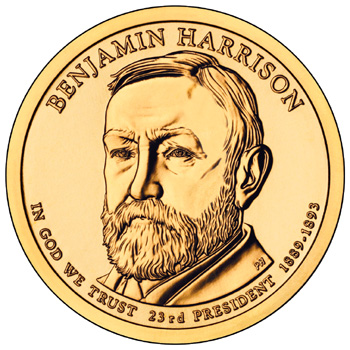 Benjamin Harrison was the grandson of William Henry Harrison, the ninth President of the United States, who famously served for only thirty days. Benjamin spent his professional life as a lawyer prior to serving in the Senate. In the 1888 Presidential election, he lost the popular vote, but won the electoral college, becoming the 23rd President of the United States.
The obverse design for the Benjamin Harrison Dollar was designed and sculpted by Phebe Hemphill. The portrait of the former president was surrounded by the required inscriptions indicating his name, the motto "In God We Trust", the order of the Presidency, and the dates of the term.
On the reverse of the coin was an image of the Statue of Liberty. The design by Don Everhart has been used in common for each release of the series, creating a unifying element.
As with the other 2012-dated releases of the series, the Benjamin Harrison Presidential Dollars were not released for general circulation, but only struck in limited quantities and sold at a premium to face value within numismatic products offered by the United States Mint. This was the result of the Treasury Department decision to suspend production for circulation due to a build up of $1 coins held in storage.
On August 16, 2012, the US Mint began sales of circulating quality examples of the coins within 25-coin rolls, 100-coin bags, and 250-coin or 500-coin boxes. Each product type was available either with coins bearing the "P" mint mark for Philadelphia or the "D" mint mark for Denver. Sales of these products drove an overall mintage of 9,840,001 circulating quality coins produced across the Philadelphia and Denver Mint facilities.
Coin Specifications:
Diameter: 26.5 mm
Weight: 8.1g
Thickness: 2.0 mm
Edge: Lettered
Composition: 88.5% copper, 6% zinc, 3.5% manganese, 2% nickel
Coin Mintages:
Philadelphia: 5,640,001
Denver: 4,200,000
San Francisco (Proof): 1,486,680
Other 2012 Presidential Dollars: