Dwight D. Eisenhower Proof Presidential Dollars (Buy on eBay) are collectible versions of the circulating coins. 
These proof coins were offered in a 2014 Presidential $1 Coin Proof Set, 2014 US Proof Set and 2014 US Silver Proof Set and as individual Proof coins. These products were available directly from the US Mint. 
The date and mint mark are located on the edge inscription of the coin.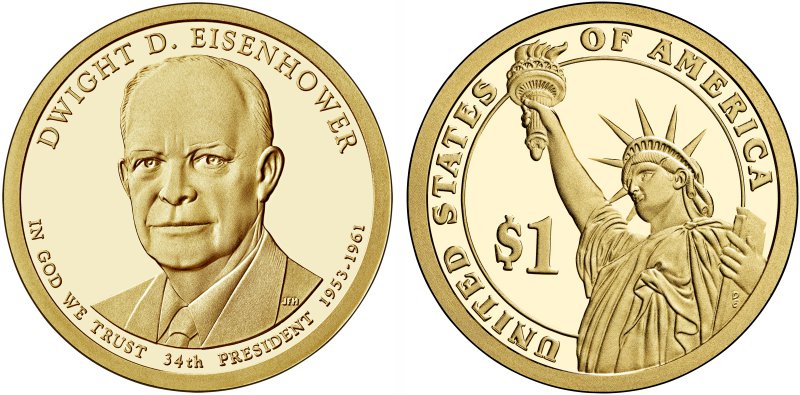 Sales of the 2015 Presidential $1 Coin Proof Sets reached 222,068 sold. 
On August 11, 2015, the Mint offered an Eisenhower Presidential Coin and Chronicles set for sale that included a Reverse Proof version of the 2015 Eisenhower dollar. Because of the success of the Truman set, speculative fervor for this one was even more intense. All 17,000 sets sold out within 15 minutes.   
Coin Specifications: 
Diameter:

26.5 mm

 

Weight:

8.1g

 

Thickness:

2.0 mm

 

Edge:

Lettered

 

Composition:

77% copper, 12% zinc, .070 manganese, .040 nickel

 

Proof Mintage

: 1,191,876

 

Reverse Proof Mintage

: 16,744

 
Dwight D. Eisenhower Background: 
The former allied forces commander from World War managed to secure a true in Korea and desegregation of public schools and the armed forces. The Interstate Highway system was created during his tenure, which was also marked by good economic times. 
The commemorative coin program ended in 1954 with Washington-Carver half dollars. 
Notable quotes: "There is nothing wrong with America that the faith, love of freedom, intelligence and energy of the citizens cannot cure." "We are going to have peace, even if we have to fight for it." 
Born:

October 14, 1890 in Denison, TX

 

Spouse:

Mamie Eisenhower

 

Died:

March 28, 1969 in Washington, DC

 
Related: