The Thomas Jefferson Presidential Dollar (Buy on eBay) represented the third issue of the new series created to honor the former Presidents of the United States. The coins were first released in circulation on August 16, 2007.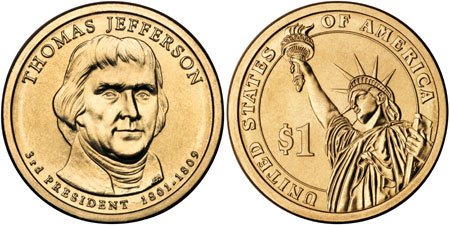 Prior to becoming president, Thomas Jefferson drafted the Declaration of Independence. During his term, he doubled the size of the United States with the Louisiana Purchase and commissioned Lewis & Clark to explore the new territories. He served two terms as the 3rd President of the United States from 1801-1809.
The official launch ceremony for the Thomas Jefferson Presidential Dollar took place at the Thomas Jefferson Memorial in Washington, D.C. on the day before the coins were released into circulation. The United States Mint Director Edmund Moy and President of the Thomas Jefferson Foundation Daniel Jordan were in attendance. The public was invited to exchange paper dollars for the new coins.
The obverse features a portrait of the president and the reverse of the coin features the Statue of Liberty design. The obverse designer/sculptor was Joseph Menna. The reverse designer/sculptor was Don Everhart.
The obverse includes the inscriptions "THOMAS JEFFERSON," "3rd PRESIDENT," and the years of his presidential term "1801-1809." The reverse inscriptions include "UNITED STATES OF AMERICA," and the denomination "$1." The date and mint mark are located on the edge inscription of the coin along with the mottoes "IN GOD WE TRUST" and "E PLURIBUS UNUM."
The overall mintage level for the Thomas Jefferson Dollar declined from the level of the prior release, but remained above 200 million. The Philadelphia Mint produced 100,800,000 coins for circulation, and the Denver Mint produced 102,810,000 coins.
Numismatic products released by the US Mint for this coin included 250-coin bags, 25-coin rolls, individual proof coins, and the Historical Signature Set. The Thomas Jefferson Presidential Dollars were also incorporated into several annual sets.
Coin Specifications:
Denomination: $1.00
Composition: 88.5% copper, 6% zinc, 3.5% manganese, 2% nickel
Diameter: 26.5 mm
Weight: 8.1g
Thickness: 2.0 mm
Edge: lettered
Coin Mintages:
Philadelphia: 100,800,000
Denver: 102,810,000
San Francisco (Proof): 3,965,989
Other 2007 Presidential Dollars:

< John Adams | James Madison >