Franklin Pierce Proof Presidential Dollars (Buy on eBay) are collectible versions of the circulating coins. 
These proof coins were offered in a 2010 Presidential $1 Coin Proof Set, 2010 US Proof Set and 2010 US Silver Proof Set and as individual Proof coins. These products were available directly from the US Mint. 
The date and mint mark are located on the edge inscription of the coin.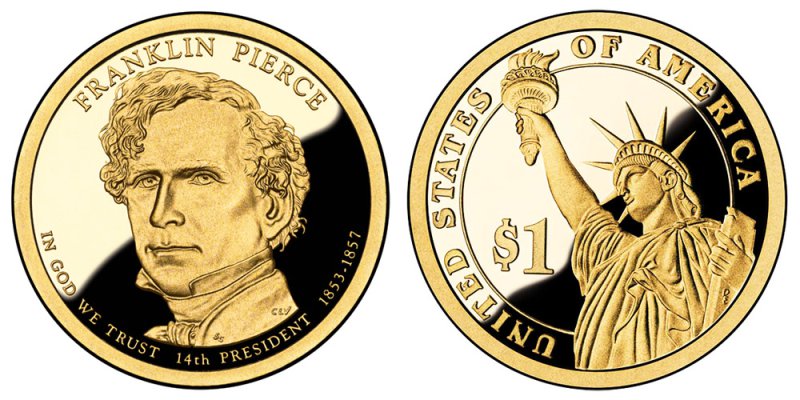 Coin Specifications: 
Diameter:

26.5 mm

 

Weight:

8.1g

 

Thickness:

2.0 mm

 

Edge:

Lettered

 

Composition:

77% copper, 12% zinc, .070 manganese, .040 nickel

 
Franklin Pierce Background: 
He served during a period of relative peace and prosperity and though that the storm caused by prior wars was over and that he could avoid the coming one over slavery, but his actions ended up helping to lay the foundations for the disruption of the Union. 
Notable quote: "We have nothing in our history or position to invite aggression; have everything to beckon us to the cultivation of relations of peace and amity with all relations. 
Born:

November 3, 1804 in Hillsborough, NH

 
Spouse:

Jane Pierce

 

Died:

October 8, 1869 in Concord, NH 

 
Related: