Presidential Dollar Rolls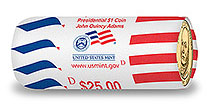 One popular way of collecting Presidential Dollars is by Presidential Dollar Rolls (Buy on eBay). A collector will attempt to acquire one or more unopened rolls for each release in the series. These are often called "BU Rolls," referring to the condition of the coins within the roll as "Brilliant Uncirculated."
Presidential Dollar Rolls usually come in 25-coin size rolls with a face value of $25 per roll. Currently, the Philadelphia and Denver Mints produce Presidential Dollars for circulation. A common method of collecting the series is to try to acquire one roll from each mint for each president.
Primary Sources for Acquiring Presidential Dollar Rolls
Banks and other Financial Institutions
United States Mint
Secondary Market Sources
Banks and Financial Institutions
From 2007 to 2011, the Federal Reserve distributed rolls of newly minted Presidential Dollars. They provided banks and financial institutions with specific time periods during which collectors could order "unmixed quantities" of the new releases. The window of availability usually extended from a few weeks before the circulation release date to a few weeks after. Banks that ordered the coins distributed them at face value to their business and retail customers.
By the end of 2011, the Federal Reserve had a massive build up of excess $1 coins in their storage vaults. Because of this, the Treasury Department decided to suspend production of Presidential Dollars for circulation. Starting in 2012, the series no longer distributed its new releases to banks and financial institutions. Instead, collectors and individuals could acquire these coins exclusively through numismatic products offered by the United States Mint or from secondary market sources.
The United States Mint
The United State Mint offers Presidential Dollar bags and rolls under a special program. They have offered 25-coin rolls and 250-coin bags (Buy on eBay) of circulation quality coins for each release of the series. The bags and rolls offered under the program use special packaging from the U.S. Mint.
New Presidential Dollar Rolls are typically offered with the official circulation release date.
The Mint does charge a premium above face value for coins ordered under the program. From 2007 to 2010, the 25-coin rolls were priced at $35.95. From 2011 onwards, the 25-coin rolls were priced at $39.95. The 250-coin bags were priced at $319.95 when they were available, until this numismatic product was discontinued.
The Mint has also offered rolls of Presidential Dollars under the Circulating Presidential Dollar Coin Direct Ship Program. Boxes of $250 face value coins can be ordered at face value with no charge for shipping and handling. The box will contain ten 25-coin rolls of Presidential Dollars. These boxes an excellent way to acquire "BU Rolls" of Presidential Dollars. The only downside is that the mint mark cannot be specified and the minimum quantity is relatively high.
In later years, the United States Mint made adjustments to the product options and pricing for the numismatic rolls and decided to cancel the Direct Ship Program.
The Secondary Market
Presidential Dollars Rolls are also commonly bought and sold on the secondary market. This can be a convenient source for someone who doesn't want to do the footwork required to locate a bank which orders new rolls. It is also convenient for someone who wants to pay a lower premium than the U.S. Mint charges.
Roll offerings are commonly seen on shop-at-home TV offerings and some mainstream magazines. However, before ordering from one of these sources, you should be careful not to enter into a subscription program or pay excessive shipping and handling charges. Pricing from these sources is also typically higher since the companies need to recoup their marketing costs.
On eBay, you can find a vibrant market for Presidential Dollars. You can usually find "BU Rolls" available for any President at any time. Premiums are usually reasonable, but make sure to account for shipping and handling charges.

< Satin Finish Presidential Dollars | U.S. Mint Presidential Dollar Numismatic Products >