Calvin Coolidge Proof Presidential Dollars (Buy on eBay) are collectible versions of the circulating coins. 
These proof coins were offered in a 2014 Presidential $1 Coin Proof Set, 2014 US Proof Set and 2014 US Silver Proof Set and as individual Proof coins. These products were available directly from the US Mint. 
The date and mint mark are located on the edge inscription of the coin.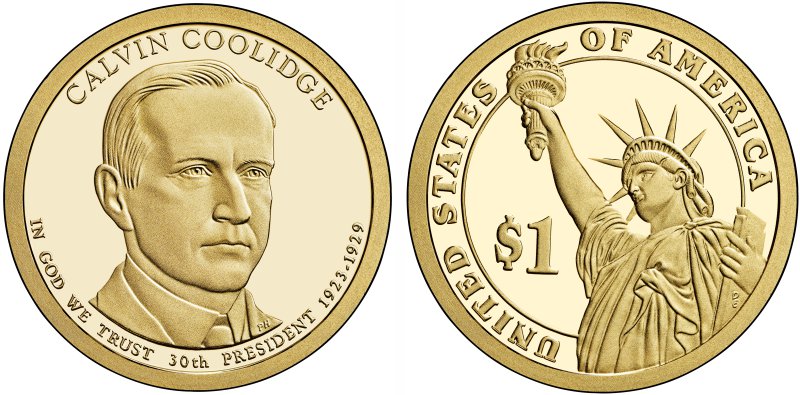 Sales of the 2014 Presidential $1 Coin Proof Sets reached another low of 218,976 sold. 
Coin Specifications: 
Diameter:

26.5 mm

 

Weight:

8.1g

 

Thickness:

2.0 mm

 

Edge:

Lettered

 

Composition:

77% copper, 12% zinc, .070 manganese, .040 nickel

 

Proof Mintage

: 1,373,569

 
Calvin Coolidge Background: 
His term was marked by economic prosperity and became known as the "Roaring Twenties," but he accomplished little in office and was known as "the do-nothing president." Historians still debate whether his policies helped cause the Great Depression, but he is praised for supporting racial equality and small government.  
During his tenure, he became in 1926 the only living president to be featured on a commemorative half dollar, the 1926 Sesquicentennial half dollar. 
Notable quote: "Don't expect to pull up the weak by bringing down the strong." 
Born:

July 4, 1872 in Plymouth, VT

 

Spouse:

Grace Goodhue Coolidge

 

Died:

January 5, 1933 in Northampton, MA

 
Related: