Andrew Johnson Proof Presidential Dollars (Buy on eBay) are collectible versions of the circulating coins. 
These proof coins were offered in a 2011 Presidential $1 Coin Proof Set, 2010 US Proof Set and 2010 US Silver Proof Set and as individual Proof coins. These products were available directly from the US Mint. 
The date and mint mark are located on the edge inscription of the coin.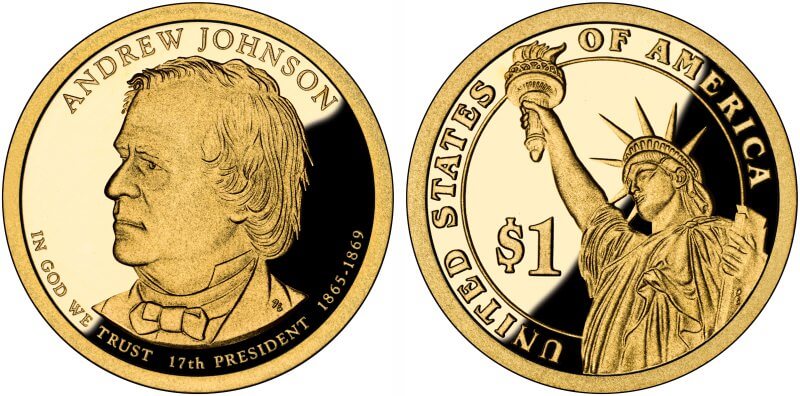 Sales of the Presidential 1 Coin Proof Set continued their decline in 2011, reaching a new low of 299,853 sets. 
Coin Specifications: 
Diameter:

26.5 mm

 

Weight:

8.1g

 

Thickness:

2.0 mm

 

Edge:

Lettered

 
Composition:

77% copper, 12% zinc, .070 manganese, .040 nickel

 

Proof Mintage:

1,972,863

 
Andrew Johnson Background: 
He is best known for being the first president to be impeached and then acquitted. He was impeached for dismissing his Secretary of War after the Radicals placed southern states under military rule. 
He also continued to reconstruct the Southern states during his tenure. Slavery was being abolished in much of the country, but "black codes" began to emerge that regulated the freedmen. 
Notable quote: "If the rabble were lopped at one end and the aristocrats at the other, all would be well with the country." "The goal to strive for is a poor government but a rich people."

 

Born:

December 29, 1808 in Raleigh, NC

 

Spouse:

Eliza McArdle Johnson

 

Died:

January 31, 1875 in Elizabethton, TN

 
Related: