Franklin D. Roosevelt Proof Presidential Dollars (Buy on eBay) are collectible versions of the circulating coins. 
These proof coins were offered in a 2014 Presidential $1 Coin Proof Set, 2014 US Proof Set and 2014 US Silver Proof Set and as individual Proof coins. These products were available directly from the US Mint. 
The date and mint mark are located on the edge inscription of the coin.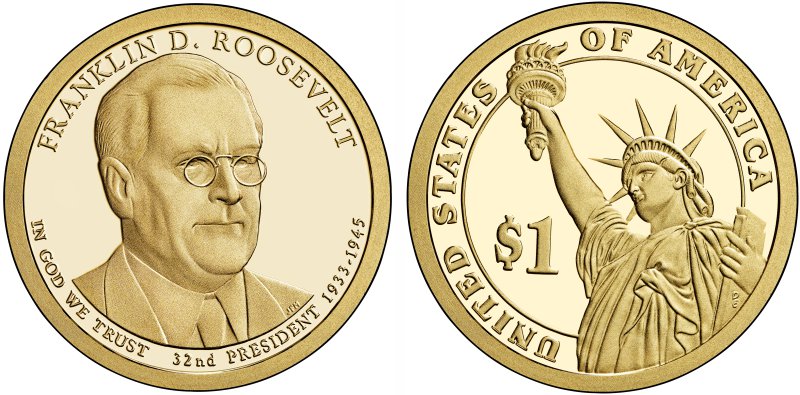 Sales of the 2014 Presidential $1 Coin Proof Sets reached 218,976 sold. 
Coin Specifications: 
Diameter:

26.5 mm

 

Weight:

8.1g

 

Thickness:

2.0 mm

 

Edge:

Lettered

 

Composition:

77% copper, 12% zinc, .070 manganese, .040 nickel

 

Proof Mintage

: 1,392,619

 
Franklin D. Roosevelt Background: 
Widely admired today as one of our greatest presidents, Franklin D. Roosevelt was also hugely popular while he was serving as president mostly due to his deft handling of the U.S. involvement in World War II and its end that included helping to establish the United Nations. He is arguably the most accomplished president in our history, who took the U.S, out of the Great Depression and established many of the key government institutions and programs that continue to shape our lives. He is also the only president to serve more than two terms, though his third term was cut short when he died in 1945 – just three months after being elected. 
During his tenure, FDR took the United States off the gold standard with his famous Executive Order 6102 that made it illegal to own gold coins or bullion except those with numismatic value. There was also a big boom in the release of commemorative half dollars in 1935 that slowed down by late 1936. 
Notable quotes: "We have nothing to fear but fear itself." "Happiness lies in the joy of achievement and the thrill of creative effort." 
Born:

January 30, 1882 in Hyde Park, NY

 

Spouse:

Eleanor Roosevelt

 

Died:

April 12, 1945 in Warm Springs, GA

 
Related: