George H.W. Bush Reverse Proof Presidential Dollars (Buy on eBay) are collectible versions of the circulating coins. 
The date and mint mark are located on the edge inscription of the coin. 
Unlike all the other Presidential $1 coins, these were only issued for collectors in Reverse Proof and not in regular Proof versions. They were not included in the 2020 Proof sets either.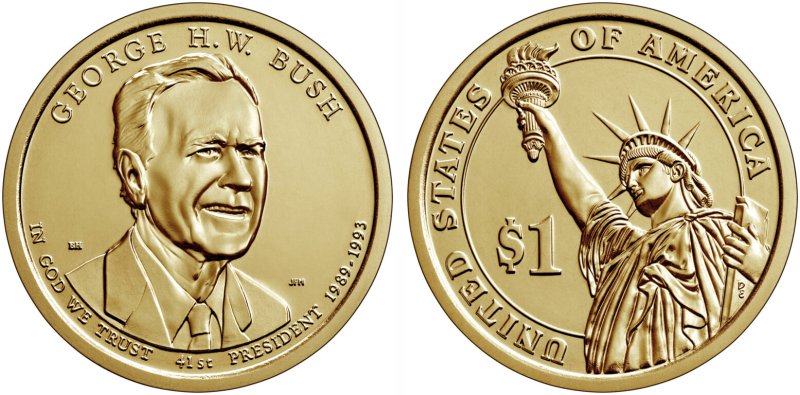 On September 17, 2021, the George H.W. Bush Presidential Coin and Chronicles Set went on sale and included a Reverse Proof version of the 2020 George H.W. Bush Presidential $1 coin that was only available in the set, which was limited to 35,000 units. First-day sales for this product were 7,103, and as of the time of writing in January 2023, it remains for sale from the U.S. Mint. Cumulative sales to date are 10,806 sets. 
Coin Specifications: 
Diameter:

26.5 mm

 

Weight:

8.1g

 

Thickness:

2.0 mm

 

Edge:

Lettered

 

Composition:

77% copper, 12% zinc, .070 manganese, .040 nickel

 

Reverse Proof Mintage

: 10,806

 
George H.W. Bush Background: 
One of the best prepared presidents in history who had extensive foreign policy experience, his term is best remembered for his historic foreign policy accomplishments. He helped to end the Cold War and to reunify Germany while keeping it in NATO. He also presided over the Gulf War and the liberation of Kuwait from Iraqi occupation. 
Born:

June 12, 1924 in Milton, MA

 

Spouse:

Barbara Bush

 

Died:

November 30, 2018 in Houston, TX

 
Notable quotes:
"I will keep America moving forward, always forward for a better America, for an endless enduring dream and a thousand points of light. This is my mission, and I will complete it."

"Read my lips. No new taxes."

 
Related: