Chester A. Arthur Proof Presidential Dollars (Buy on eBay) are collectible versions of the circulating coins. 
These proof coins were offered in 2012 Presidential $1 Coin Proof Set, 2012 US Proof Set and 2012 US Silver Proof Set and as individual Proof coins. These products were available directly from the US Mint. 
The date and mint mark are located on the edge inscription of the coin.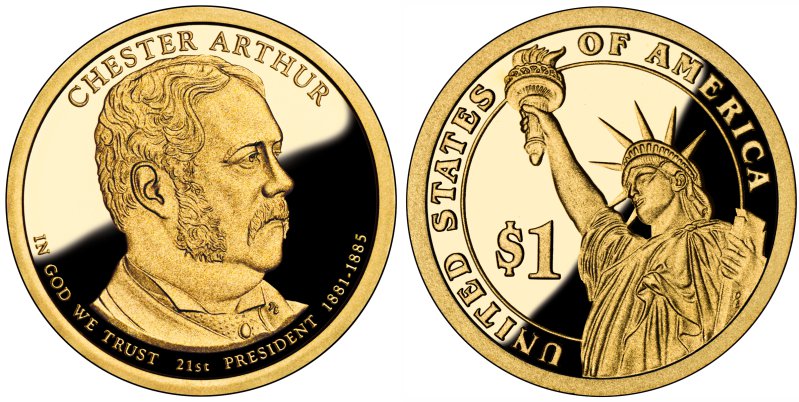 Sales of the 2012 Presidential $1 Coin Proof Sets reached another low of 249,265 sold. 
Coin Specifications: 
Diameter:

26.5 mm

 

Weight:

8.1g

 

Thickness:

2.0 mm

 

Edge:

Lettered

 
Composition:

88.5% copper, 6% zinc, 3.5% manganese, 2% nickel

 

Proof Mintage

: 1,438,743

 
Chester A. Arthur Background: 
He served briefly as Vice President for President Garfield. An honorable man, he nevertheless had gotten involved in the spoils system prior to becoming president. After being elected, he sought to be above all that, establishing the Civil Service Commission.   
Notable quote: "If it were not for the reporters, I would tell you the truth."  
Born:

October 5, 1829 in Fairfield, VT

 

Spouse:

Neil Arthur (marriage ended prior to becoming president)

 

Died:

November 18, 1886 in New York, NY

 
Related: