John F. Kennedy Proof Presidential Dollars (Buy on eBay) are collectible versions of the circulating coins. 
These proof coins were offered in a 2015 Presidential $1 Coin Proof Set, 2015 US Proof Set and 2015 US Silver Proof Set and as individual Proof coins. These products were available directly from the US Mint. 
In addition, on September 16, 2015, the Mint offered a Kennedy Presidential Coin and Chronicles set that included a Reverse Proof version of the coin and was the only way to otain it. The sets were limited to 50,000 units – a substantial increase over the Truman and Eisenhower sets in response to complaints. 
The date and mint mark are located on the edge inscription of the coin.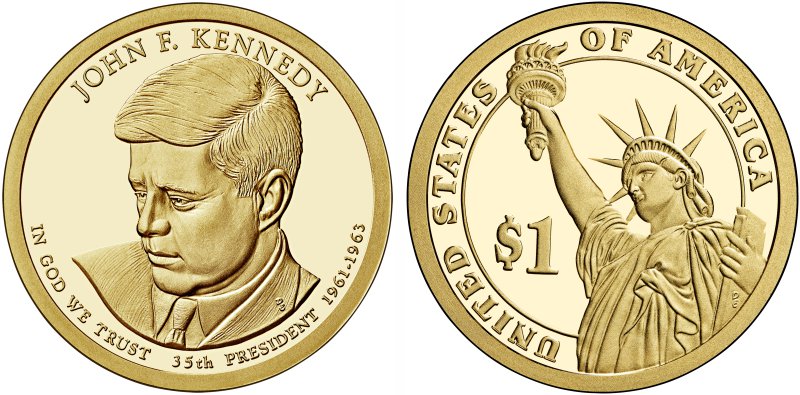 Sales of the 2015 Presidential $1 Coin Proof Sets reached 222,068 sold. 
Coin Specifications: 
Diameter:

26.5 mm

 

Weight:

8.1g

 

Thickness:

2.0 mm

 

Edge:

Lettered

 

Composition:

77% copper, 12% zinc, .070 manganese, .040 nickel

 

Proof Mintage

: 1,191,876

 

Reverse Proof Mintage:

49,051

 
John F. Kennedy Background: 
JFK as he has long been known was our first Catholic president and the fourth one to be assassinated. Although his term lasted less than three years because of that tragic assassination, he remains one of the most popular modern presidents. He is remembered for many things from preventing a nuclear war during the Cuban Missile Crisis to the botched Bay of Pigs and for creating the Peace Corp. 
On the coinage front, in November 1962 a long-sealed vault at the Philadelphia Mint that contained bags of Morgan dollars was opened, which started a silver rush to acquire those coins between then and March 1964. 
Notable quotes: "Ask not what your country can do for you — ask what you can do for your country."  
Born:

May 29, 1917 in Brookline, MA

 

Spouse:

Jacqueline Kennedy

 

Died:

November 22, 1963 in Dallas, TX

 
Related: