Thomas Jefferson Proof Presidential Dollars are special collectible versions of the circulating coins.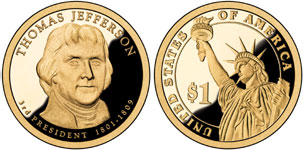 Proof coins are specially minted with sharp relief on treated and polished blanks. Coins typically have frosted raised design elements and mirrored backgrounds to produce a cameo effect.
These proof coins were offered in a 2007 Presidential Dollar Coin Proof Set, 2007 US Proof Set, 2007 US Silver Proof Set, and as individual proofs. These products were available directly from the US Mint in the year of issue.
The date and mint mark are located on the edge of the coin. Special packaging was created for proof sets so collectors could view the edges of the coins.
Coin Specifications:
Diameter: 26.5 mm
Weight: 8.1g
Thickness: 2.0 mm
Edge: Lettered
Composition: 88.5% copper, 6% zinc, 3.5% manganese, 2% nickel
Thomas Jefferson Quote:
"The basis of our government being the opinion of the people, the very first object should be to keep that right; and were it left to me to decide whether we should have a government without newspapers, or newspapers without a government, I should not hesitate a moment to prefer the latter."
Born:

April 13, 1743, Albemarle County, VA

Spouse:

No spouse while in office

Died:

July 4, 1826, Monticello, VA
Related: