James Monroe Proof Presidential Dollars are collectible versions of the circulating coins.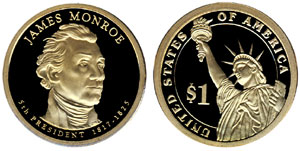 Proof coins are minted with sharp relief on specially treated and polished blanks. Coins have frosted raised design elements and mirrored backgrounds to produce a special cameo effect.
These proof coins are currently offered in a 2008 Presidential $1 Coin Proof Set and 2008 US Proof Set. The coins will also be included in the 2008 US Silver Proof Set and as individual proof coins. These products are available directly from the US Mint.
The date and mint mark are located on the edge inscription of the coin. Special packaging for proof sets allows collectors to view the edges of the coins.
Coin Specifications:
Diameter: 26.5 mm
Weight: 8.1g
Thickness: 2.0 mm
Edge: Lettered
Composition: 88.5% copper, 6% zinc, 3.5% manganese, 2% nickel
James Monroe Quote:
"If we look to the history of other nations, ancient or modern, we find no example of a growth so rapid, so gigantic, of a people so prosperous and happy."
Born:

April 28, 1758, Westmoreland County, VA

Spouse:

Elizabeth Monroe

Died:

July 4, 1831, New York, NY
Related: